National Taco Day: Meals and deals across Tampa Bay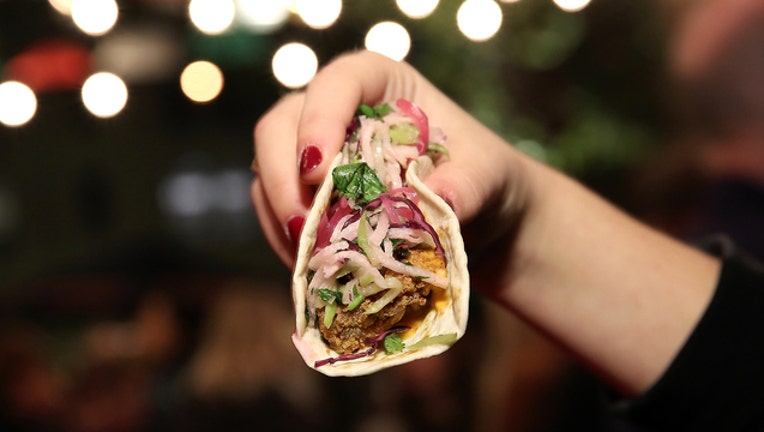 article
TAMPA (FOX 13) - It may not be a Tuesday, but National Taco Day will be celebrated on October 4.
It's a day that all taco lovers can rejoice, celebrate and indulge at local restaurants across Tampa Bay. There are plenty of places that will be offering deals on this favorite food item.
Tijuana Flats: Two deals are being offered here.  For $5.99, customers can get two tacos, chips and a drink. For those who do not like tacos (we're sure there's not many of them) a burrito or a bowl, along with chips and a drink can be purchased for $5.99. Locations can be found on the restaurant's website. 
Taco Bell: The fast food chain is offering a "National Taco Day Gift Set" for $5 that you can purchase for a friend. The set can be purchased for a friend by submitting a digital gift card of $5.50 through the Taco Bell website. The taco gift set would include four tacos: the Crunchy Taco, Fiery, Cool Ranch, and Nacho Cheese Doritos Locos Tacos.
Fuzzy's Taco Shop: For $1, you can get a taco at the Brandon, Bradenton, Sarasota and Temple Terrace locations.
Moe's Southwest Grill: National Taco Day will be celebrated at this restaurant beyond October 4. Starting Thursday, loyalty members can buy two tacos and get one free. Anyone can access the deal by downloading the app. The offer is available through October 7.
Capital Tacos: The chain doesn't appear to have any special deals for National Taco Day, according to their social media accounts, however, there is a good deal for a good cause. The restaurant teamed up with the Tampa Bay Lightning's Ryan Callahan to create the Taco of Month: Cally's Chicken BLT. All portions of all the proceeds will be donated to the Ryan Callahan Foundation, which is dedicating to helping pediatric cancer. The Chicken BLT is made up of: chicken fajita, bacon, lettuce, pico, cheese and poblano ranch. 
Besito Mexican Restaurant: All day, the restaurant, located at WestShore Plaza, will serve a trio of tacos for $8.
3 Daughters Brewing: The St. Pete-based brewery is hosting a "Taco Takeover" event. Three food trucks will be there. For $10, customers can receive a taco from each truck and a 3 Daughters beverage of their choice. Tickets can be purchased here. The event will be held from 5 p.m. to 10 p.m.
Empamamas: Inside Armature Works, you can find Empamamas, which will be providing a special deal of two tacos and a side of chips and salsa, all for $7. Address: 1910 North Ola Avenue in Tampa
Prost Kitchen + Bar: All day, this restaurant will be serving tacos for a dollar a piece, as well as margaritas for $3. Address: 2802 East Bearss Avenue in Tampa
Islands Cantina: This Davis Island restaurant promises 25 percent off all tacos for National Taco Day. Address: 233 East Davis Boulevard in Tampa
Catrinas Tacos and Tequila Bar: The Sarasota restaurant said it's all about "love, tacos and tequila" for this foodie holiday. They will be serving tacos for $3, and tequila flights for $15.