Nelson calls for recount after apparent 'razor-thin' Scott victory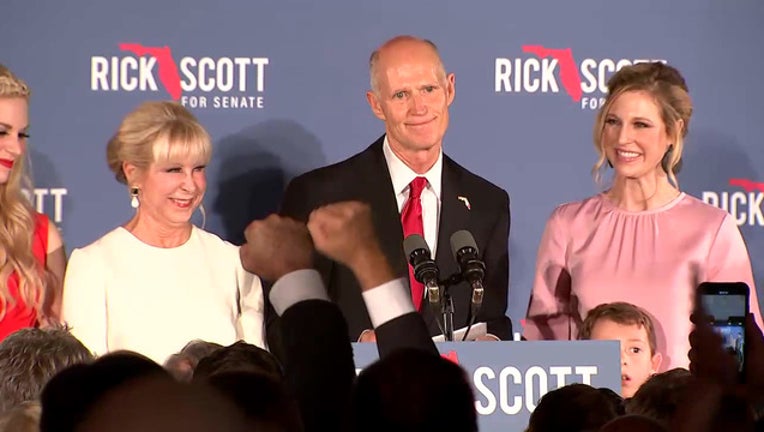 article
TALLAHASSEE (NSF) - Eight years after shocking the political establishment by becoming Florida governor, Republican Rick Scott declared victory late Tuesday night in his campaign against U.S. Sen. Bill Nelson. But Nelson's office says a recount is imminent.
As of Wednesday morning, Scott led by 34,537 votes out of more than 8 million cast -- a margin of 0.43 percent. State law calls for a recount if the winning candidate's margin is less than 0.5 percentage points. 
Nelson did not make a public statement Tuesday night, and his chief of staff said Wednesday that he would not be conceding the race yet based on the "razor-thin" margin.
Scott's team countered with a statement blasting Nelson.  "This race is over," Chris Hartline wrote. "It's a sad way for Bill Nelson to end his career. He is desperately trying to hold on to something that no longer exists."
Scott's tentative win even more firmly cemented control of Florida for Republicans. Nelson for the past eight years has been the only Democrat elected statewide.
Shortly before midnight Tuesday, Scott, flanked by his family, addressed supporters in Naples. He acknowledged the combative nature of the race, in which Scott and his supporters repeatedly characterized Nelson, 76, as verging on senility.
Campaigns are "divisive" and "tough," Scott said.
"And they're really actually way too nasty," he said. "But you know what? We've done this for over 200 years, and after these campaigns, we come together."
The governor vowed to bring to Washington the same business-like approach he used as an outsider when he assumed office eight years ago as governor. Scott, a wealthy businessman who had not previously held political office, was elected governor in 2010 by beating Republican establishment candidate Bill McCollum and Democrat Alex Sink.
"The federal government is frustrating. It's outdated. It's wasteful. It's inefficient," Scott said. "All of us in state government have dealt with the federal government over the last eight years, and we can tell you story after story after story. Now, I'm just one individual, but there are a lot of other individuals in D.C. that want to do the same thing. And I'm going to work with them and we will change, like we did in Florida, the direction of Washington, D.C."
Scott choked up after saying there were "a couple people looking down from heaven I want to recognize."
"I had the most wonderful mom," said Scott, who frequently speaks about growing up poor. "She never would believe that I'd be a governor or a U.S. senator."
Scott also thanked Jeri Bustamante, a former aide who died in a boating accident this year and who was his Spanish coach.
"Everybody in our office and everybody on this campaign team, she was their best friend," he said.
The race drew national attention and money as part of a broader battle for seats in the U.S. Senate.
Through mid-October, Scott had raised about $69 million for his Senate campaign, according to the Federal Elections Commission. Nelson, who was seeking his fourth term in the Senate, had raised $28 million. Those totals also do not account for tens of millions of dollars dumped into the race by outside groups.
Nelson sailed to wins in his first three U.S. Senate races but faced a far more-formidable opponent in Scott.
Nelson has served in public office for four decades, including as a state legislator, a congressman, a state Cabinet member and U.S. senator. After winning the governor's office in 2010, Scott was re-elected in 2014 by defeating former Gov. Charlie Crist.
The Senate race was marked by attacks on each candidate.
Scott's supporters, for example, tried to portray Nelson as a political hack who had achieved little in the Senate. Nelson's backers, meanwhile, sought to paint Scott as corrupt and benefiting financially from his job as governor.
The race took an unexpected twist Oct. 10 when Hurricane Michael slammed into Northwest Florida, causing massive damage. Wearing his signature Navy cap, Scott spent much of the next three weeks in the Panhandle, though he returned to the campaign trail last week.