FHP: Woman killed after gas tank falls on car following fiery tractor-trailer crash on I-75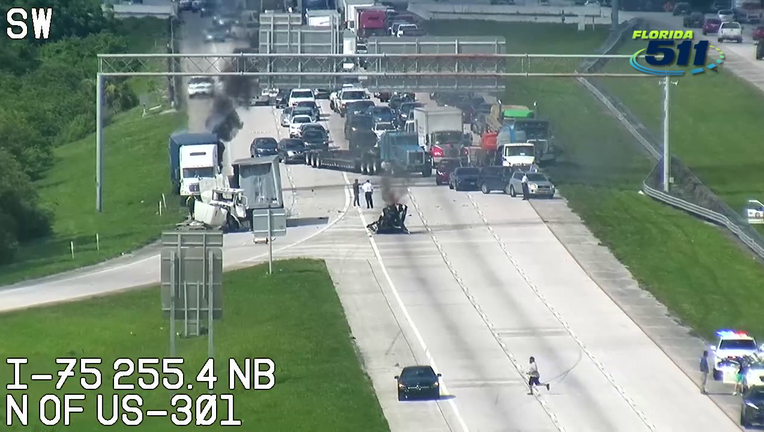 article
TAMPA, Fla. - A Ruskin woman lost her life Friday morning in a fiery crash involving two tractor-trailers on I-75, according to the Florida Highway Patrol. 
Troopers say a tractor-trailer from St. Pete was traveling northbound on I-75 near the Selmon Expressway when, for unknown reasons, it drifted onto the outside shoulder and collided with another tractor-trailer from Miami that was parked on the side of the road. 
Upon impact, the natural gas tanks on the traveling tractor-trailer went airborne and fell onto a Buick Enclave that was traveling northbound in the center lane of the interstate, killing a 49-year-old woman in the passenger seat. 
The tractor-trailer that was parked along the shoulder was filled with cotton clothing products and burst into flames upon impact. 
The gas tanks came to final rest in the center of I-75 as the Buick came to a controlled stop along the inside shoulder of the highway. 
The drivers of the tractor-trailers suffered minor injuries as did the driver of the Buick and the two children who were passengers in the car.  
The northbound lanes of I-75 were closed later Friday morning and early into the afternoon, but has since reopened.