Officers accused of beating Lakeland man during arrest reassigned; more possible victims come forward
LAKELAND, Fla. - Three Lakeland police officers have been taken off the street a month after a man was Tased and beaten during a routine traffic stop. Now, others who had interactions with the same officers said they were also roughed-up during arrests.
A few days before Christmas, Antwan Glover was driving in an area law enforcement says is "high crime" and was pulled over.
Officers found marijuana in his car. Glover says he had a prescription for it, but officers did not give him time to show them.
MORE: Video shows man being punched, tased by Lakeland police during traffic stop
Onlookers recorded video on their phones as Glover was arrested. Officers used a stun gun and then punched and kicked him in the back, chest and head. 
Now the officers have been reassigned to jobs where they will have little or no contact with the public, but Lakeland PD Chief Sam Taylor said the changes "should not be interpreted as anything other than a modification in these officers' duty assignments."
Detective Dillon Cornn and Officers Anton Jefferson and Jason McCain have also been prohibited from taking off-duty security assignments.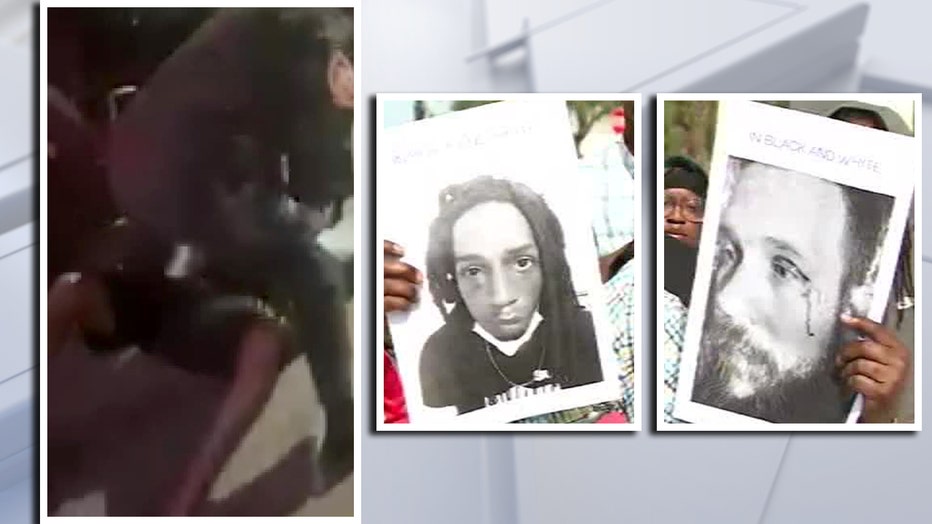 During a press conference, officials from Black Lives Matter said others have come forward to say they were also beaten and mistreated by the same officers who allegedly beat Antwan Glover during an arrest.
During a press conference in front of the agency on Thursday, Black Lives Matter Restoration Polk co-founder Pastor Carl Soto commented, "We are partially relieved that some action was taken by having these officers removed from the streets."
But Soto said the reassignment should only be the first step.
"We demand the arrest of these officers," he continued.
When videos of Glover's arrest first appeared on social media, BLM asked anyone who may have had similar interactions with the same officers to come forward. 
Armani Evans said he was leaving a bar when officers Jefferson and McCain showed up. When he was arrested, he said the officers Tased and beat him. His mother described his injuries.
"Multiple lacerations close to the head, the face, and a tooth knocked out," said his mother, Carrie Cline.
Timothy Davis Jr. was in a car while in a parking lot, without his seatbelt on, when he was arrested by McCain and Jefferson. Things got dicey after the officers accused him of hiding illegal drugs in his month.
He says it quickly became physical.
"They started punching him," said his dad, Timothy Davis, Sr. "He was telling me they were beating him, and finally drug him out of the car, and they kept beating him."
Lakeland police said there is an investigation into the officers' actions.