One person killed in fiery crash near Hard Rock Casino in Tampa, troopers say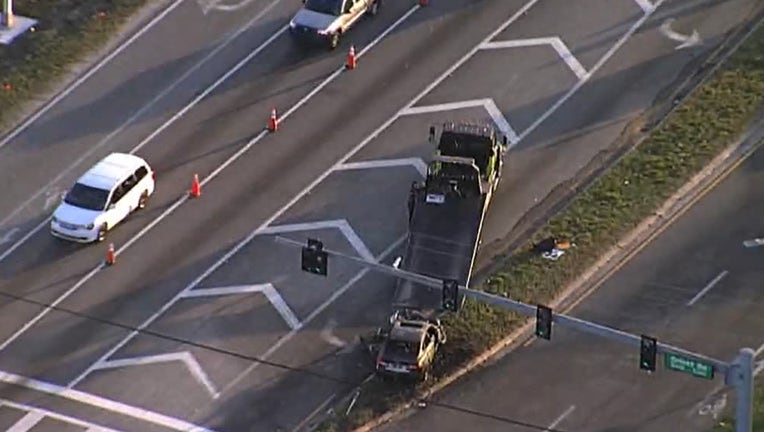 article
TAMPA Fla. - A Tampa woman was killed in a Tuesday morning crash involving a tractor-trailer near the Hard Rock Casino, troopers said.
According to the Florida Highway Patrol, a 47-year-old driver was traveling west on Hillsborough Avenue. Meanwhile, a tractor-trailer was heading east. 
At the Orient Road intersection, troopers said the sedan turned left and collided with the semi. Due to the impact, the Tampa woman's sedan caught fire and "burned intensely," troopers wrote in a news release.
FOX13 spoke with a man who said he witnessed the crash tried to rescue that woman from the burning vehicle and along with others.
RELATED: Polk sheriff: Suspect believed to be involved in recent drive-by shooting shot, killed by officer
"I hopped out my car, I ran over there, and I tried to push the glass to get the lady out of car that was not working," Jarell Curtis said. "So, what I did was I ran back to my car to get my check for my car, ran back over there and attempted to bust the window. It didn't break."
Curtis said they remained with that woman until emergency crews arrived. She was taken to a nearby hospital and passed away due to her injuries, FHP said.
"It was crazy, because the whole time I'm pulling out, all of my efforts was thinking that she was going to make it and then to find out that she didn't make it. It hurt me a little bit just because I was in the scene right there. But at the end of the day, it wasn't nothing that I could do. I did everything that I could," Curtis said.
The driver who died has not been identified, and the incident is still under investigation.