Pasco Co. student faces felony charges for alleged written threats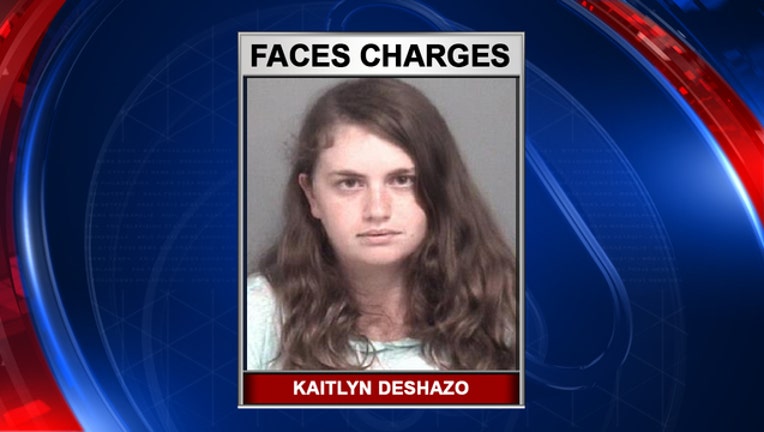 NEW PORT RICHEY (FOX 13) - A student faces felony charges for allegedly writing threats on the wall at her school, according to Pasco County Sheriff Chris Nocco.
Kaitlyn Leigh Deshazo, 17, has been charged for allegedly writing a bomb threat on the stall door of a bathroom at River Ridge High School on August 22.
During a press conference Thursday, Sheriff Nocco said Deshazo admitted to writing the threat and gave investigators reasons for her actions. However, Nocco said, "make it very clear, there is no reason why. It's a crime. It's a felony."
"Make no mistake, there's zero tolerance," Nocco said. "[Parents], please go to your kids, explain to them, this could ruin their lives."
Nocco said tips from students ultimately led investigators to Deshazo.
"Kudos to the students who came forward, for the administrators working together, and for the fine work of our detectives and school resource officers because it was everybody working together as one which led us to find a suspect," Sheriff Chris Nocco said.
Superintendent of Pasco County Schools Kurt Browning said the student's behavior was "unforgivable" and "incredibly disruptive" to students and school staff. The superintendent reiterated the sheriff's message to parents to be involved in their children's lives.
The sheriff said parents, students, and school staff have become increasingly frustrated with threats made at the county's schools.
"Please recognize the harm you are doing to society by putting these threats out there. There are real victims that lost their lives because individuals went to a school and started shooting people," Nocco said. "There are also real families who have seen this on the news and are scared to death every day to send their kids to school."
Some parents came forward to praise the work of officials who helped find the alleged source of the threats. The parents also reportedly offered $1,000 to anyone who offered information that led to an arrest. It was unclear if the students who came forward, or anyone else, would receive that.
Pasco County Sheriff's Office Detective Shane Hughes there is an active investigation into other possible written threats, but only one has been connected to Deshazo.
Deshazo is charged with threatening to throw, place, or discharge a destructive device in a building, a second-degree felony, and written threats to kill or do bodily harm, also a second-degree felony.