Photographer captures proposal on McAfee Knob, hopes to find couple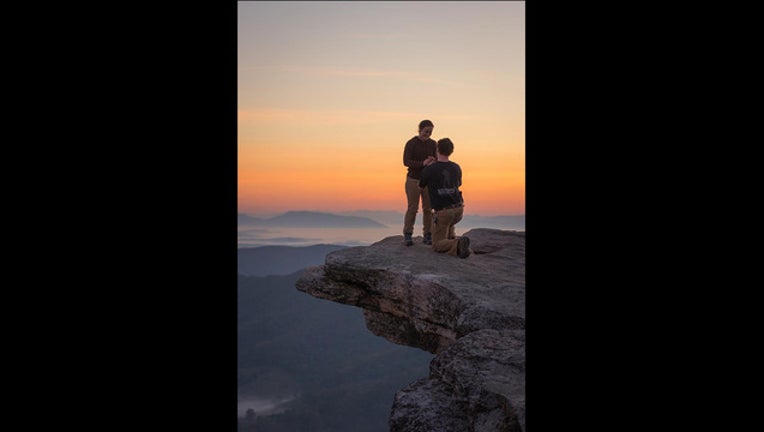 article
ROANOKA, Va. (FOX 13) - A photographer unknowingly captured a special moment at the top of a cliff.
Will Wright hiked to the top of McAfee Knob -- one of the most scenic points along the Appalachian Trail -- on Saturday morning to capture photos of the sunrise and enjoy the day. One of the photos he captured was a proposal as the sun began to rise in the backdrop. The unknown woman in the photo has her back to the orange hues in the sky as she smiles down at the unidentified man, who was down on one knee. Now, Wright is trying to find the hopefully engaged couple to offer a copy of the special moment.
Prior to proposing, the man in the photo asked Wright if he thought people would clear off of the overhang.
"I chuckled and said, 'Yeah, good luck with that,'" Wright said. "He replied, 'Well, I have business to do,' which I thought was odd, but I turned away and continued to take pictures of the sunrise and the overhang."
The next thing Wright witnessed was the same man down on one knee. There were about 40 people present and the peak became quiet. The couple then hugged, which Wright, who was about 30 feet away, said he considered to be a "good sign," and people started clapping.
"It didn't cross my mind to say anything to the couple or even look at the pictures," he said, "and I lost track of them quickly. It wasn't until Monday that I discovered I had captured something special."
If you recognize the couple, Wright asks for you to reach him through the contact form on his website: wwrightiv.com.