Pinellas Park officer shoots, kills armed man who raised gun toward police, sheriff says
article
PINELLAS PARK, Fla. - Detectives assigned to the Pinellas County Use of Deadly Force Investigative Task Force are investigating a deadly officer-involved shooting that occurred early Tuesday morning. 
According to Pinellas County Sheriff Bob Gualtieri, officers with the Pinellas Park Police Department were called to a home at 5000 94th Avenue North in Pinellas Park around 12:40 a.m. because a woman's boyfriend, Jared Daniel Rudderham, 36, was yelling in the backyard of the property. 
Sheriff Gualtieri says the woman, who lived at the home with her grandmother, told police they were concerned for their safety because of Rudderham's behavior. Investigators say the women told them that the man routinely had guns on him, but did not know if he was armed at the moment. 
According to investigators, while two officers were speaking with the women at the front door, a corporal with PPPD was in the backyard and saw the man walking around the south end of the property.  The corporal says he saw what he believed to be a cell phone in Rudderham's hand, but did not see a gun.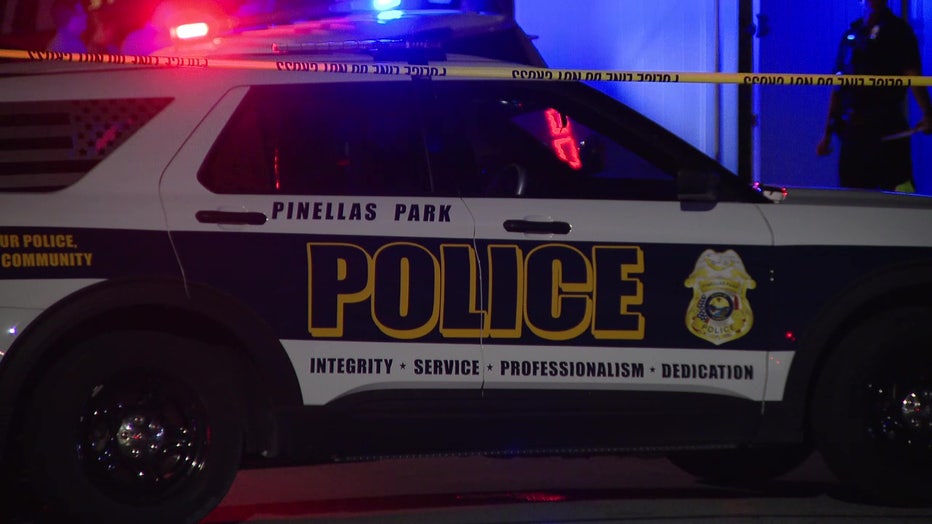 Police vehicle outside deadly officer-involved shooting scene. 
Sheriff Gualtieri said when the two officers who were at the front door went around to the backyard through a fenced-in area, Rudderham took a Glock semi-automatic handgun out of his waistband. A K9 officer going into the backyard from the west side says he also saw the man take out a gun and rack the slide to put a bullet in the chamber. 
READ: Toddler shot and killed by father in St. Pete home, police say
"When he racked it to put one in the chamber, he turned toward Officer Williams and when he did that, Officer Williams fired approximately four times, striking the subject," stated Sheriff Gualtieri.
Rudderham was taken to Bayfront Medical Center where he was pronounced dead.

According to PCSO, Rudderham has a lengthy criminal history, including burglary, carrying a concealed weapon, resisting arrest without violence, DUI, aggravated domestic assault with a deadly weapon, improper exhibition of a firearm or dangerous weapon, false imprisonment, criminal mischief, possession of marijuana, disorderly conduct, and domestic battery.
The investigation is still ongoing. 
This is a developing story. Check back for updates.