Police: Pursuit of suspected DUI driver ends in crash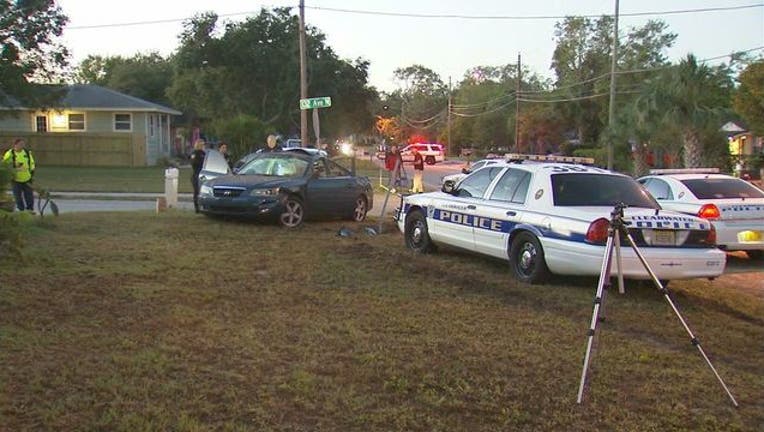 article
CLEARWATER (FOX 13) - A suspected DUI driver led police into a pursuit which ended in a crash.
The incident began at Court Street and Myrtle Avenue in Clearwater. Police said they received the call of a suspicious vehicle in the downtown Clearwater intersection. The caller told police the occupants in the car were either passed out or asleep.
According to Clearwater police, an officer pulled up behind the vehicle, which was sitting in the southbound lanes, and watched it sit though two traffic light cycles. They said the driver and three passengers appeared to be incapacitated. Their ages ranged from 16 to 20, with the driver being 17 years old.
The car then began to slowly roll into the intersection, police said, and officers positioned their patrol cars in front of the vehicle to prevent it from moving further. That's when the driver suddenly looked up and rammed his car into two cruisers, and fled the scene, they said. The officers were not injured.
The pursuit ended at 119th Street and 132nd Avenue, about a block away from Ulmerton Road and almost five miles from the original scene. Police said they used a PIT maneuver on the suspect vehicle and the car crashed.
All four were transported to Morton Plant Hospital as a precaution but have since been released into police custody. As of Friday morning, they were being interviewed after marijuana, counterfeit money and multiple sets of keys were found inside the vehicle. Charges are pending.
SkyFOX aerials showed multiple lights of red-and-blue around the scene before the sun rose. Sitting in the Largo intersection was a green Hyundai car with some front-end damaged. It's unknown whether that is the suspect vehicle.