Polk County residents send gifts, encouragement to law enforcement officers
LAKELAND, Fla. - Polk County law enforcement is seeing an outpouring of gifts and messages of encouragement during this time of clashes between civil rights protestors and police.
In the last few weeks, Lakeland police say they have gotten cakes, cookies, individual boxes of snacks and more.
"We are over the top with thanks," Lakeland Police Chief Ruben Garcia told FOX 13.
Hightower Roofing, based in Lakeland, just donated box after box of food from Mission BBQ.
"We believe in supporting the police department," said Mandy Hightower, one of the owners.
However, she adds, "We do believe reform needs to happen."
Law enforcement agencies have been under intense scrutiny after the death of George Floyd in Minneapolis, and more recently, this past weekend, the death of Rayshard Brooks in Atlanta.
In Polk County, citizens are coming forward to show support for officers who do the right thing.
And not only LPD is feeling the groundswell.
Signs that say, "Thank you PCSO. We love you!," have popped up in front of the Polk County Sheriff's Office, its substations and jails.
Polk County Sheriff Grady Judd says the encouragement doesn't stop there.
"I have had several people, several deputies come to me and say, I can't even buy my own breakfast or lunch. I go to pay my ticket and they go, 'Oh, it has already been paid,'" Judd said, adding he thinks public support for his deputies is now stronger than ever.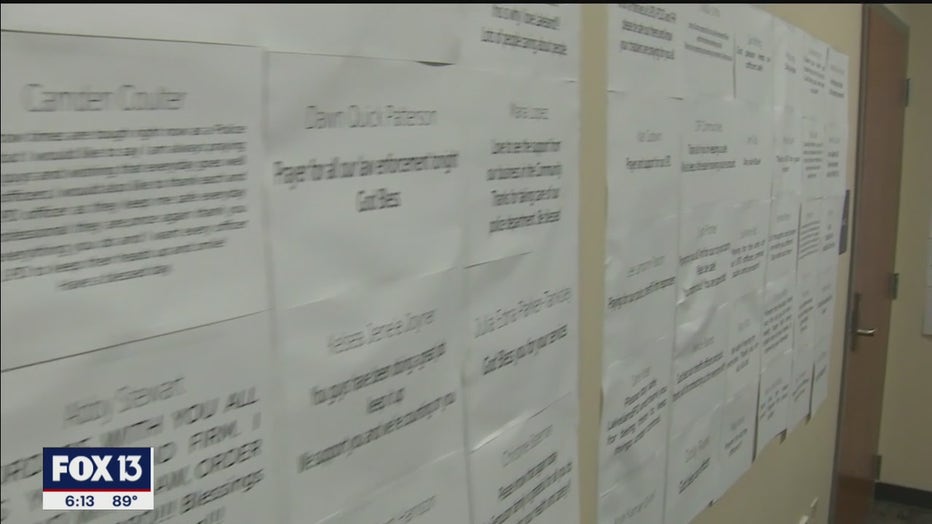 Back at LPD, dozens of messages of support posted on social media have been printed out and now hang in the room where roll call is done before every shift. That way, crews can see them before they hit the streets.
Robin Tillett, a department spokeswoman pointed one out.
"Thank you to all the officers and first responders. Stay safe out there," she reads.
"They're praying for us," she says.