'On-the-job disagreement' led to Davenport triple murder, sheriff says
DAVENPORT, Fla. - Sheriff Grady Judd on Monday identified the three out-of-state contractors killed over the weekend in Davenport, allegedly by an angry co-worker.
According to the sheriff's office, 39-year old Shaun Runyon was among a team of workers in Lakeland on an electrical contract for Publix. The four worked for JNB Electric out of Pennsylvania and were staying in a rental home in the Windsor Island Resort neighborhood.
Friday, Runyon had an "on-the-job disagreement" that started when supervisor Kevin Lanusse apparently told Runyon he wasn't working fast enough. Runyon then punched Lanusse and left the job site; his co-workers assumed he was heading home to Pennsylvania.
But detectives say Runion returned to the home at about 9:45 a.m. Saturday, where he murdered Lanusse and Donell in their sleep by beating them to death with a baseball bat. Dolezal woke up and tried to escape, but Runyon fatally stabbed Dolezal.
Runyon also struck another co-worker with the bat as he was trying to escape, deputies say. That victim had his wife and daughter in the home as well, but all three were able to escape.
Runyon left the scene, which launched a manhunt, officials said. He eventually showed up at a Lake Wales home covered in blood, claiming he was sexually assaulted. The homeowners told him he should go to the hospital, which is where detectives were able to take him into custody.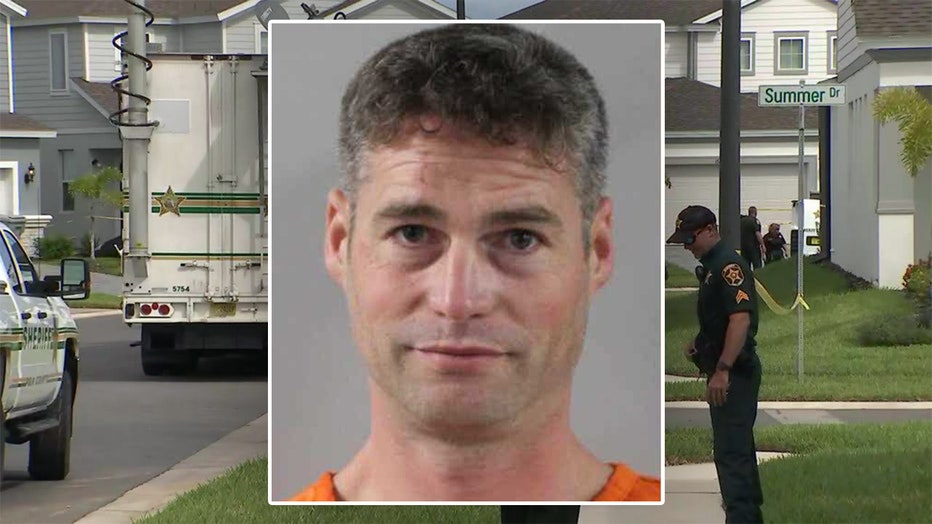 According to the sheriff's office, Runyon told the detectives that on Friday, he drove to Georgia, where he bought a crossbow and devised a plan to return to Florida and kill his three coworkers. 
He drove to Tampa, left his work vehicle at Tampa International Airport, and rented a car. He told detectives that he purchased a baseball bat in Tampa, which he decided to use instead of the crossbow.
Runyon has been booked into the Polk County Jail and is being held without bond.
The accused killer does have a criminal history, detectives said. The last time he was arrested in Pennsylvania was for a violent arrest dealing with strangulation. 
Deputies identified the three victims as:
Kevin Lanusse, 41, from Pennsylvania
Dewlon Donell, 46, from Maryland
Gregory Dolezal, 44, from Ohio