POLL: Rubio pulls ahead; presidential race unchanged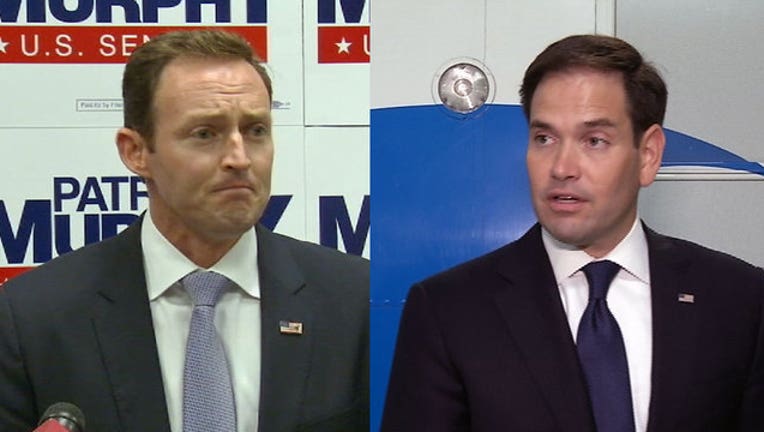 (FOX 13) - New poll numbers in Florida shows almost no change in the race for president, but a significant pull forward for Marco Rubio in the state's U.S. Senate race.
A new survey of 603 likely and early voters in Florida conducted November 1 and 2 shows Hillary Clinton with a four-point lead over Donald Trump  - 49 percent to 45 percent. The survey, conducted for FOX 13 News by Opinion Savvy, has a margin of error of plus or minus 4 percent, making the results virtually tied, and unchanged from the last poll conducted in October.  
As election day draws closer, Florida voters did seem to rally around Marco Rubio in the race for U.S. Senate. October's poll showed Rubio tied with Patrick Murphy - at 46 percent each, with eight percent undecided.
About two weeks later, Rubio has 50 percent of the vote and Murphy stayed at 46 percent, with four percent still undecided. Considering the margin of error, Rubio has managed to pull in front of Murphy by at least two points with less than a week before election day. 
RESULTS FROM NOVEMBER 1-2 POLL:
President
Clinton: 49%
Trump: 45%
Johnson: 2%
Stein: 1%
Undecided: 3%
U.S. Senate
Rubio: 50%
Murphy: 46%
Undecided: 4%
In the last poll conducted for FOX 13 News by Opinion Savvy, results were the same for the top two candidates. Of 538 registered likely voters in Florida polled between October 19 and 20, 49 percent were for Hillary Clinton and 45 percent were for Donald Trump.
Opinion Savvy was rated the third most accurate pollster in the nation by Bloomberg News earlier this year.