Rays hit the road with hurricane help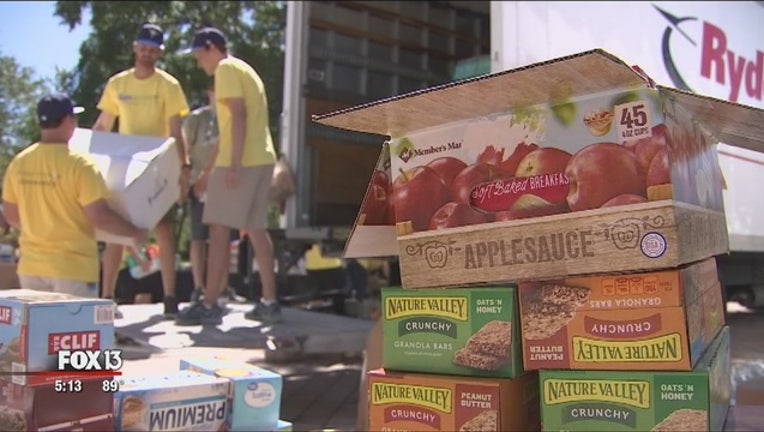 article
ST. PETERSBURG (FOX 13) - The Tampa Bay Rays wrapped up a two-day supply drive Monday for Hurricane Michael victims. Volunteers loaded up three large rental trucks with supplies that will be driven right up to Bay County and delivered to people who need them most.
"I think we have a real ability to touch our community that other organizations may not have," said Rays president Brian Auld. "This is a spot that people know how to get to. We're an organization that regularly brings people together and that makes this a really nice fit for us."
The team asked good Samaritans to bring in items like bottled water, batteries, dried goods and baby supplies.
Organizers said the Tampa Bay community delivered.
"It's amazing to see this community rally together to help out Bay County in their time of need," said Stephen Thompson with the Rays Foundation. "We are fortunate that we're in a position that we can go up to Bay County and give back."
Volunteers said they saw a steady stream of deliveries.
"These people are so unfortunate and it chokes me up and could have been us. I just feel that if we don't take care of other people, this is the most important thing we can do," said Myrna Irwin, who's from St. Petersburg and donated several items. "I pray for them. They need strength to get through this, the children, the parents, the grandparents, everybody. It's like where do we start? Where do they start?"
"This is close to us and you had to pitch in," added Doug Moore, who also donated supplies. "You had to do something and I'm so grateful to the Rays to offer a little incentive, but I would have been here either way."
Other charities, such as the American Red Cross and United Way, are asking for monetary donations. OneBlood needs blood donations after having to close some of its centers in the Panhandle and Georgia.