River O' Green Festival brings thousands to downtown Tampa on St. Patrick's Day
TAMPA, Fla. - Thousands of people felt the luck of the Irish Friday in downtown Tampa.
The 12th annual River O' Green St. Patrick's Day festival kicked off Friday afternoon. This was the first time since 2018 that the event was on St. Patrick's Day.
The festival was originally set for Saturday at Curtis Hixon Waterfront Park, but was bumped up due to weather concerns.
RELATED: Tampa River O' Green Fest rescheduled for St. Patrick's Day due to Saturday's forecast
"I think it's just getting together and having a good time with people," David Wildes said. "It's fun."
Some families have been coming out to the festival since it began, while others came out for the first time.
"This has been a family tradition," Bob Russell said. "We're all Irish. Every one of us."
The highly anticipated river dyeing kicked off the event, as the Hillsborough River was transformed into a sea of green. Event organizers say the dye is nontoxic and biodegradable.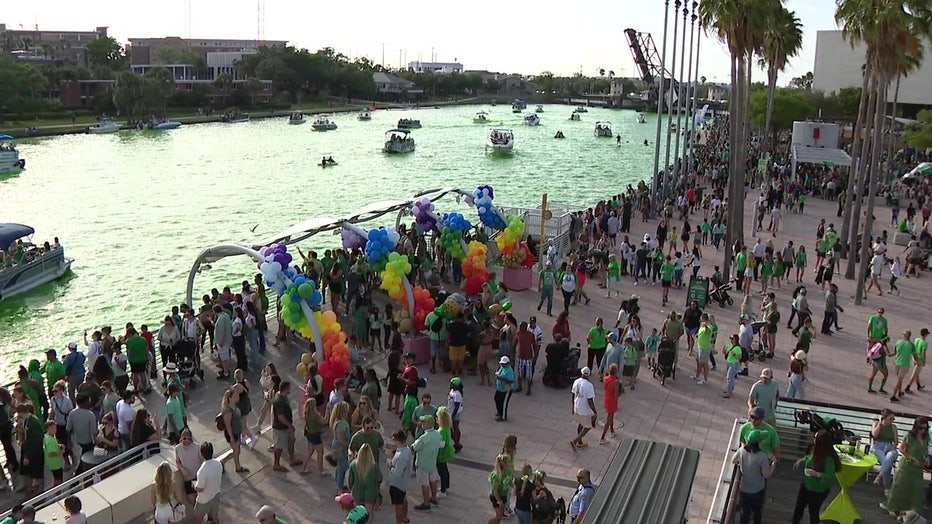 "Oh it's great," Russell said. "Are you kidding? This is the best city. We love Tampa. Tampa's terrific."
Despite the date change, thousands of people still came out to the River O' Green.
"The weather, all the people. It's so fun to be out on the water, so I think it's amazing to see all the people out in Tampa Bay," Carrie Wildes said.
Some people came for the river dyeing, while others came to enjoy the food, music and vendors. Some others were on a mission on St. Patrick's Day, in search of a leprechaun.
"She made a trap for a leprechaun, and she's trying one in our house, not yet though," David Wildes said. "We had to Google it, and it said leprechauns eat potatoes, so we have a potato inside a box and if it comes in, it's going to get fat, and it won't be able to get out, so that's the plan."
Event organizers say they usually see around 15,000 people come out to the River O' Green throughout the day. Despite the date change, they were hopeful to see a similar turnout.