School districts in Hillsborough, Polk and Pinellas are reducing number of meal distribution days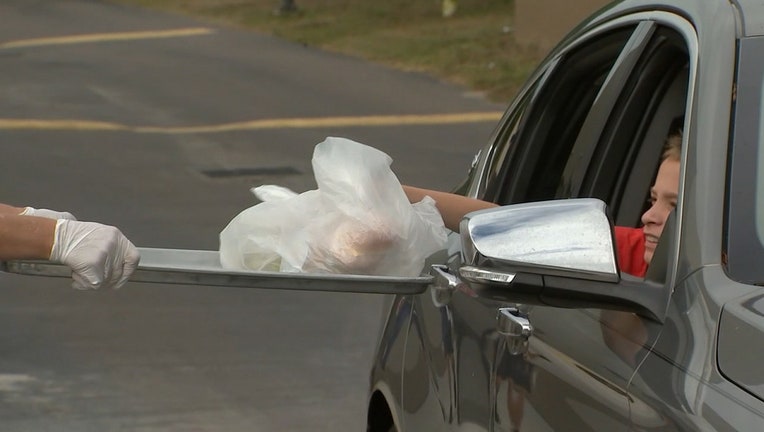 TAMPA, Fla. - Some school districts in the Tampa Bay-area are making changes to their meal distribution schedules based on new CDC guidelines recommending people to limit the errands they run during the COVID-19 pandemic.
In Hillsborough County, families needed food assistance will be able to pick up a week's worth of food on one day. The district will begin doing this every Wednesday from 9 a.m. to 1 p.m. 
Hillsborough will still have its 147 "Grab-and-Go" school sites open. The district says the once weekly pick-ups will drastically reduce the amount of contact between Student Nutrition Services workers and the public 
The Hillsborough School district says the bags are very large. They contain about 12 pounds of food per child. They suggest bringing empty backpacks to help carry everything. The meals also contain items that need to be refrigerated so make sure to plan ahead for that as well
Monday, April 13 and Tuesday, April 14 will be the final days the district provides single-day meals. There are 147 schools participating in the meal program.
For a list of "Grab-and Go" locations, head over to the Hillsborough County Public School's website.
In Polk County, five days worth of food will be handed out on Mondays, Wednesdays and Fridays from 11 a.m. to 1 p.m. The district will also stop distributing meals at 22 schools. This begins Monday, April 13.
Students must be present in order to get those meals. 
School lunch pick-up locations can be found on the Polk County Public School's website.
In Pinellas County, the school district was initially distributing meals three days a week, but have begun reducing the distribution schedule to two days a week: on Mondays and Wednesdays. 
The change will go into effect Wednesday, April 15. 
Starting April 22, the district will transition to a once-a-week pick-up on Wednesdays that will provide six days worth of meals per child.
The 22 distribution sites will remain the same and will be open from 10:30 a.m. to 12:30 p.m.
Meal distribution locations can be found on the Pinellas County Public School's website.