Scott budget seeks tax cuts, education money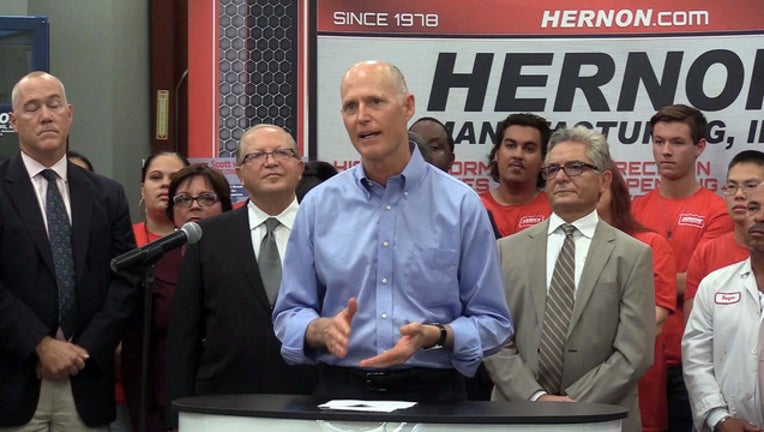 article
JACKSONVILLE (NSF) - With a backdrop of generators, chainsaws and pressure washers in a Duval County hardware store, Rick Scott on Tuesday unveiled his final budget proposal as Florida's governor, releasing an $87.4 billion plan that calls for $180 million in tax cuts and increased education spending.
"In 2010, when I (first) ran for election most people doubted that a business person could come in and try to turn this economy around and run a budget to cut taxes and make historic investments in education," Scott said at a news conference at Northern Tool + Equipment. "But we have actually done all of those things."
Scott previously outlined his $180 million tax-cut proposal, which includes three week-long disaster preparedness tax "holidays" in May, June and July when consumers would be able to buy hurricane-related supplies like batteries, radios, waterproof sheeting and generators without paying sales taxes. The measure would exempt the cost of generators up to $750.
As part of the proposal, Scott also wants a 10-day back-to-school sales tax holiday and a reduction in a number of motorist-related fees, including cutting the renewal fee for driver's licenses from $48 to $20.
But Scott's final tax-cut plan is far less ambitious than his initial effort as a new governor in 2011, when he called for the elimination of the $2.2 billion corporate income tax. Over his seven years as governor, Scott managed to reduce the number of businesses that pay the tax, although collections have grown annually by about $200 million.
"I would like to cut even more," Scott said. "I think we have to figure out how to reduce the cost of government. We made a lot of progress but there is always more to do."
Scott's 2018-2019 budget proposal is more than $4 billion larger than the current $83 billion budget. His budget aides said the increase was related to more than a $1.4 billion increase in state revenue and increases in federal funding, including for the Medicaid program.
His budget plan includes more than $5 billion in reserve funds.
"I have 419 days to go," Scott said. "I'm going to fight every day to make sure this is the number one state for education, for jobs and for public safety."
The governor's proposal is a starting point for lawmakers as they negotiate a budget during the 2018 legislative session, which starts in January. Economists have indicated lawmakers will have a tight budget.
Scott is calling for a $200 increase in per-student funding for Florida's pre-kindergarten through 12th grade school system. The proposal would increase per-student spending to $7,497, a 2.74 percent increase.
The $770 million increase, which would cover the cost of an additional 27,000 new students, includes $534 million in increased local property-tax revenue. House leaders have characterized the rise in local property tax collections as a tax increase, calling for the tax rate to be rolled back to reflect the increase.
In documents accompanying the budget proposal, Scott's office defended using the increase in local tax collections, saying "when property values raise, it's a good thing for Florida families."
Former U.S. Rep. Gwen Graham, a Democrat who is running for governor, criticized Scott's school spending plan, noting the state cut more than $1 billion from the education budget in 2011.
"We still haven't recovered from those massive cuts," Graham said. "Adjusted for inflation, per-student funding would still be less under Rick Scott's new budget than it was when he took office."
Scott's budget would restore a $30 million cut in the current budget for state and community colleges and would include a $30 million increase. It would provide a total of $120 million in performance funding for the 28-school system.
The state university system would see a slight increase, with Scott advocating $670 million in performance funding for the 12-school system, which would be a $150 million increase over this year.
But $120 million of that increase would come from moving funds from programs designed to reward high-performing graduate schools and hire top-level professors, which were initiatives backed by Senate President Joe Negron, R-Stuart.
Scott's budget does not include a tuition increase for state colleges or universities. And Scott supports legislation that would permanently cover full tuition and fees for the highest-performing Bright Futures scholarship recipients and allow them to attend summer school.
Scott's budget includes $230 million in affordable housing programs, including $20 million for workforce housing in the Keys, which were heavily damaged by Hurricane Irma. But his budget also would sweep $92 million from an affordable-housing trust funds to help pay for other expenses in the budget.
Another priority for Scott, as well as the Legislature, is the state's opioid epidemic.
Scott wants to spend $53 million --- more than half of which comes from federal funds --- to address the issue.
His plan would earmark $4 million to help mentally ill patients and drug addicts get housing, which experts say is one of the chief barriers to recovery. He's also set aside $15 million in enhancements to the substance-abuse treatment system, which would include 53 additional residential treatment beds, emergency room treatment and follow-up, and targeted outreach for pregnant women with substance-abuse disorders.
His proposal also would spend $5 million on Naloxone, an overdose-reversal drug, for first responders. And the governor would steer $1.2 million on upgrades to the state prescription-drug monitoring program, which keeps track of prescriptions for controlled substances.
Scott's also wants to direct $4 million to local law-enforcement agencies to conduct investigations related to opioid abuse.
In the criminal justice arena, Scott's tagged $68 million for mental-health services in the state's prisons.
The recommendation comes after Disability Rights Florida, which represents disabled prisoners, threatened to sue the state over the treatment of mentally ill prisoners. The state and the organization are in the midst of settlement negotiations.
Overall, Scott's budget would increase the state workforce by 827 positions, while eliminating 262 primarily vacant jobs, for a net increase of 565 positions.
---- News Service senior writer Dara Kam contributed to this report.