Sesame Street creates family with two gay dads during Pride month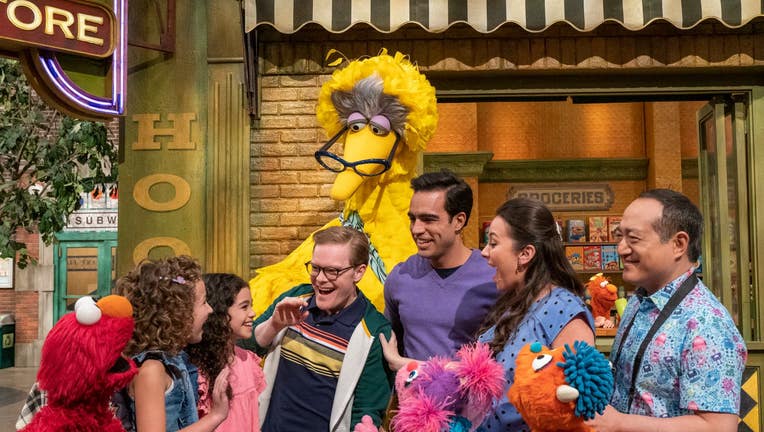 article
A new family stopped by Sesame Street during Pride month, featuring two gay fathers.
The show introduced the new characters Thursday as part of its "Family Day" episode.
The episode featured Dave and his husband, Frank. The two men have a daughter named Mia who they took to Sesame Street for the Family Day celebration. 
The show didn't provide any story background on the family, nor did it talk in-depth about the subject of same-sex marriages. However, in the end, Frank did have a message to the other families at the party.
RELATED: Sesame Street introduces two Black Muppets to teach Elmo skin color is 'an important part of who we are'
"Yeah, there's all kinds of different families," he said. "But what makes us a family is that we love each other."
Alan Muraoka, who plays "Alan" on the show, posted about the moment on his Facebook page.
"Love is love, and we are so happy to add this special family to our Sesame family. Happy Pride to all!!!!" he posted.
This isn't the first time the subject of homosexuality crossed paths with the family-oriented educational show. 

In 2018, the show's producers cleared up social media rumors and said that characters Bert and Earnie were not gay.

Sesame Workshop tweeted the characters have many human traits but "remain puppets, and do not have a sexual orientation."

The workshop did not answer questions about why some puppets have been given girlfriends.

RELATED: Sesame Street is now an official place in Manhattan

In a second tweet, the workshop says, "Sesame Street has always stood for inclusion and acceptance."

The tweets came in response to an interview published in 2018 by Queerty with Mark Saltzman, a "Sesame Street" writer. He says when he was writing scenes with Bert and Ernie, he "always felt that without a huge agenda" they were lovers.

Frank Oz, who created the Bert character, also weighed in. He tweeted that he and Muppets creator Jim Henson "never created them to be gay."


June is recognized as Pride Month, commemorating the June 1969 police raid targeting gay patrons at the Stonewall Inn in New York that led to an uprising of LGBTQ Americans and served as a catalyst for the gay rights movement.

The Associated Press contributed to this report. This story was reported from Los Angeles.