Some fireworks shows fizzled out due to weather, vendor issue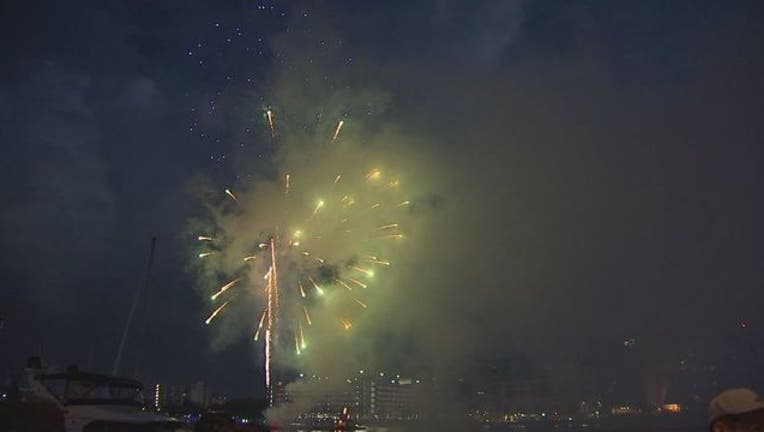 ST. PETERSBURG (FOX 13) - Fireworks is an annual tradition on Independence Day, but for some cities, attendees ended up having a view of an empty sky, or the show was cut short.
In St. Petersburg, officials initially said there were "technical difficulties," and were unable to put on a show. On Thursday morning, officials announced the vendor, Creative Pyrotechnics, based out of Orlando, requested to cancel the show by 8:30 p.m. Wednesday -- about 45 minutes before the scheduled fireworks show. 
City officials said during a Thursday press conference that they checked with the vendor throughout the day on the status of the show due to forecasted storms.  
"One of the things that had frustrated us the most is that we didn't have any notice that this show wasn't going to go on," said Mike Jeffries, St. Pete Leisure Services Administrator. "We would've preferred to cancel it earlier on if the vendor had given us that information. Quite honestly, they waited until the very last minute to let us know that this show is a no-go."
Officials said they didn't have a clear answer as to why the show would not go on. They believe the vendor was not set up in time or just not prepared. They said they will not be paying the $25,000 tab for the fireworks. St. Petersburg has used Creative Pyrotechnics for a decade. There are no plans to reschedule the fireworks show.
The Tampa Bay area experienced a soggy evening on Wednesday, which led to the cancelation of the annual fireworks celebration in Temple Terrace, originally scheduled to begin around 9:15 p.m. Before 6 p.m., the city sent out the following tweet: 
"Please note that, due to the inclement weather, the Temple Terrace fireworks are cancelled. Unfortunately they cannot  be rescheduled. Stay safe - and dry! — feeling sad."
City officials in Gulfport decided to postpone Wednesday's fireworks show due to "inclement weather." It has been rescheduled for Thursday at 9 p.m.
Fireworks in downtown Tampa was hosted by the Tampa Riverwalk, and originally scheduled for 9 p.m. Organizers said they started the show five minutes early due to incoming lightning. Before 10 p.m., they wrote on Facebook that the show lasted for eight minutes and "ended with a wonderful grand finale."
However, the post before that read,
"We are monitoring the weather and the forecast has the bad weather passing us before the planned Downtown Tampa Independence Day Fireworks Celebration fireworks show. We are still on schedule for a 9pm show. If anything changes we will post to this page."
The early start led to bad reviews on the Riverwalk's social media accounts. One Facebook user wrote, "What happened to posting to the page if anything happens. See your post below," while another one said, "That was awful. So many confused and annoyed people."
There were some people who managed to see the entire show. One person wrote on the Riverwalk's Facebook page, "Thanks for a great show Tampa! My family had a blast!"