Southbound Howard Frankland Bridge will close overnight for sign installation
ST. PETERSBURG, Fla. - At 11 p.m. Monday, all southbound lanes of the Howard Frankland Bridge will shut down for a few hours as part of a multimillion-dollar project.
The closure will allow crews to install overhead signs across all lanes of traffic on the Pinellas County side of the bridge. Northbound lanes will remain open.
Traffic will be diverted onto the Courtney Campbell Causeway and Gandy Bridge. Lanes are slated to reopen by 5 a.m. Tuesday.
The $595 million Gateway Expressway Project started in September 2017. It will connect U.S. 19 and the Bayside Bridge with I-275. An optional 80-cent toll lane will allow commuters to drive from the Bayside Bridge to I-275 with no traffic lights.
MORE: Transportation officials making progress on new Howard Frankland Bridge
I-275 will be widened to add a toll lane in each direction along the median next to the existing lanes from south of Gandy Boulevard to 4th Street North.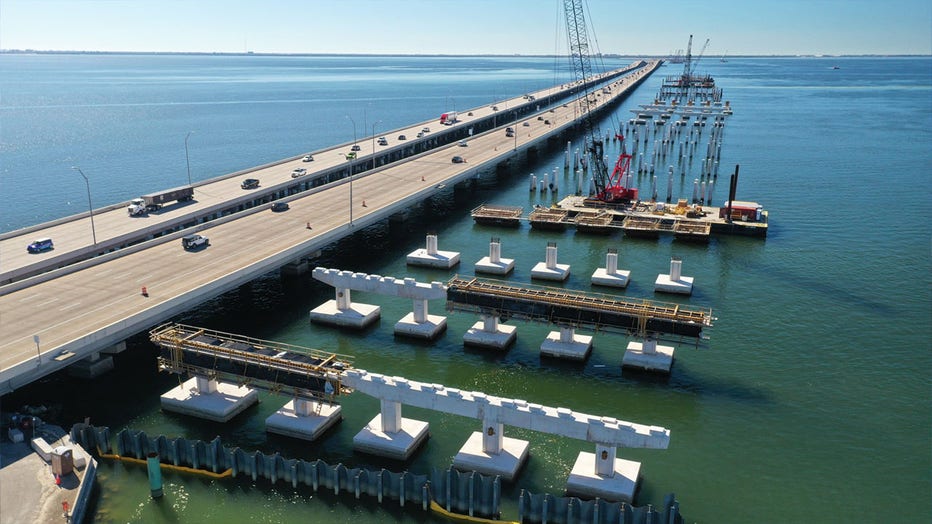 Ongoing construction of new Howard Frankland Bridge (Courtesy: FDOT)
The new expressway should reduce commuter traffic on other roads like Ulmerton Road and Roosevelt Boulevard. Engineers said the Gateway Expressway is unique because of all the roads it touches. 
More than 250 people are working day and night, six to seven days a week to build the expressway. The Gateway is scheduled to open in the summer of 2023.