St. Pete Mayor Ken Welch shares vision for Tropicana Field site redevelopment
ST. PETERSBURG, Fla. - The process of choosing a developer to transform Tropicana Field and the surrounding area continues after St. Petersburg's new mayor hit the reset button earlier this summer. 
Former Mayor Rick Kriseman wrangled with city council and the Tampa Bay Rays for years before term limits forced him to pass the baton. The pool of potential developers for the 86-acre site had been narrowed to two and the proposals included plans with – and without – a baseball stadium. 
However, six months into his administration, Mayor Ken Welch scrapped both plans and decided to start over.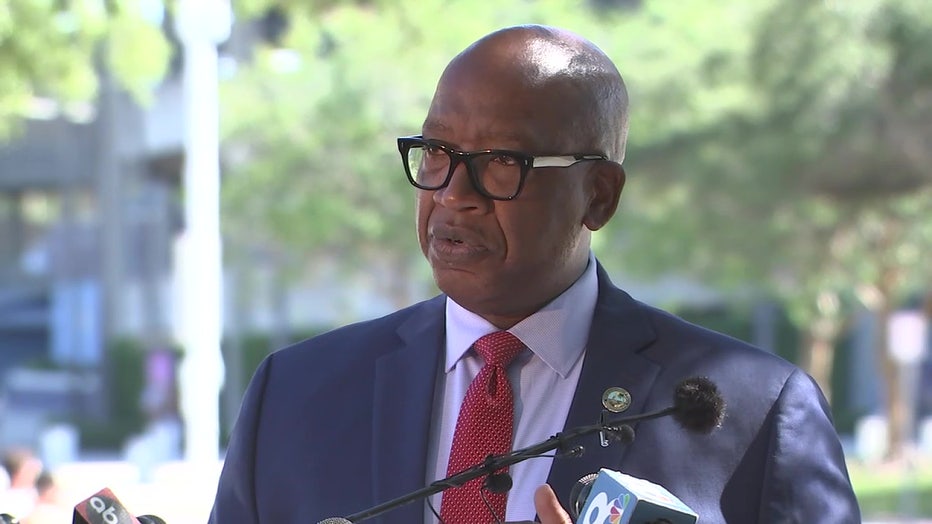 St. Pete Mayor Ken Welch and the city had it narrowed down to two developers, but his administration scrapped both plans and decided to start over
RELATED: St. Pete mayor announces city will nix Trop redevelopment proposals – and start over 
Mayor Welch said for him, redeveloping the area where he grew up is deeply personal. 
The Gas Plant District, which covers roughly 30 blocks, with the northern border along 1st Avenue North and the souther border along 5th Avenue South and Interstate 175. The western border is along 18th Street South and is partially covered by the I-725/I-175 interchange, and extends east to 8th Street South. 
Tropicana Field and its parking area sits in the middle. 
PREVIOUS: St. Pete reviewing Tropicana Field redevelopment feedback from community meetings
Before the interstates and the dome and the parking lots, the district was a thriving African American community. 
But what some viewed as progress and growth resulted in the upending of lives, families, neighborhoods and livelihoods for hundreds of residents. Ken Welch's family was among them.
Now as mayor, Welch says his vision includes something for everyone – housing, commerce, research, innovation, and recreation – including the Tampa Bay Rays if the team decides to stay.