Woman pinned under PSTA bus left with critical injuries, St. Pete police say
ST. PETERSBURG, Fla. - A woman is suffering from critical injuries after being hit and run over by a bus in St. Pete Wednesday morning.
Dr. Martin Luther King, Jr. Street near downtown St. Pete was closed for several hours while police investigated the crash, which happened just before 10:30 a.m.
Investigators said a PSTA bus was traveling west on 1st Avenue North when it made a left turn to go south on Dr. Martin Luther King Street North. 
RELATED: Clearwater police search for hit-and-run driver who fled after injuring pedestrian
The victim, 58-year-old Denise Rozwarski, had been standing just south of the intersection on the sidewalk when she stepped out from the curb and was struck by the bus.
Police said she was not in the crosswalk at the time of the crash.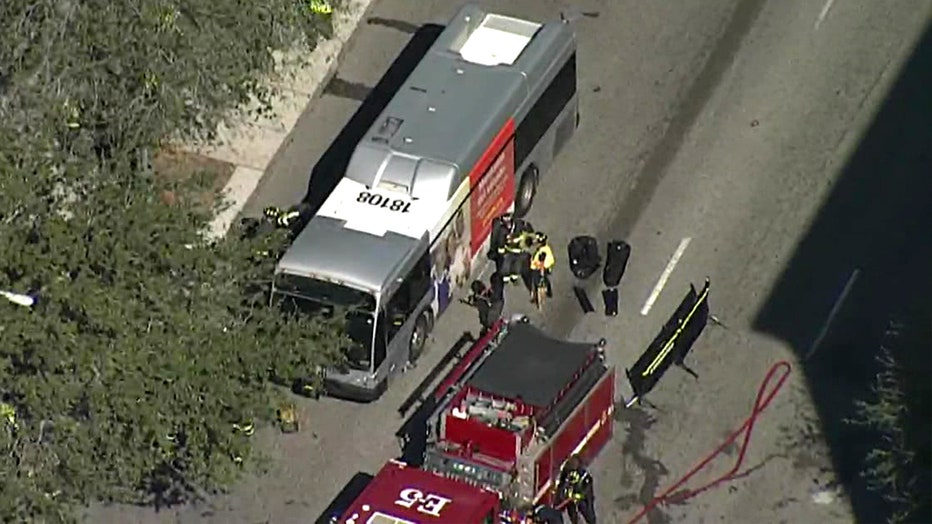 Aerial view from SkyFOX shows the scene of a pedestrian crash involving a PSTA bus in downtown St. Pete.
Roswarski was extricated from underneath the bus by St. Pete Fire Rescue and rushed to Bayfront Health with life-threatening injuries.
The driver of the bus remained on the scene and is cooperating with the investigation. There were no passengers on the bus at the time of the incident.