Stolen beef found in college dorm toilet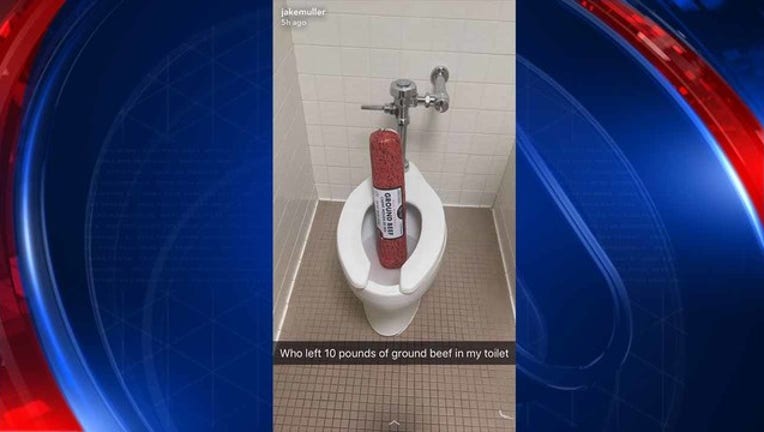 article
BINGHAMTON, New York (STORYFUL) - Taco Tuesday could be canceled indefinitely.

This is the case for one dorm at Binghamton University in New York. Jake Muller, a sophomore at the school, said he found 15 pounds of ground beef in his suite's toilet, which was intended for an upcoming taco feast for students.

He returned to his suite after having dinner with friends, when he came across the odd scene. The group were confused on who could have played the prank on the group, but did admit they left their suite door unlocked, allowing someone to possibly have free access to dispose the evidence in their dorm.
The entire dorm received an email from the resident advisors that night, alerting students the log of 15 pounds of ground beef had disappeared from the kitchen's refrigerator:

Dear Mohawk Residents,

Today we dealt with a tragic incident where our beef (approx. 3 feet long & 15 lbs) that we RA's stored in the bottom level of the kitchen refrigerator was gone.

That specific item, was meant for our upcoming community builder this Tuesday where the RA's were going to host a "Taco Tuesday" even for you all.

However after this incident we are highly considering the continuation of conducting events like this where we strive to cultivate and foster a sociable atmosphere within our building.

The beef was thrown away, but the mystery remains unsolved: who was the beef culprit?