Suspect arrested in two New Port Richey robberies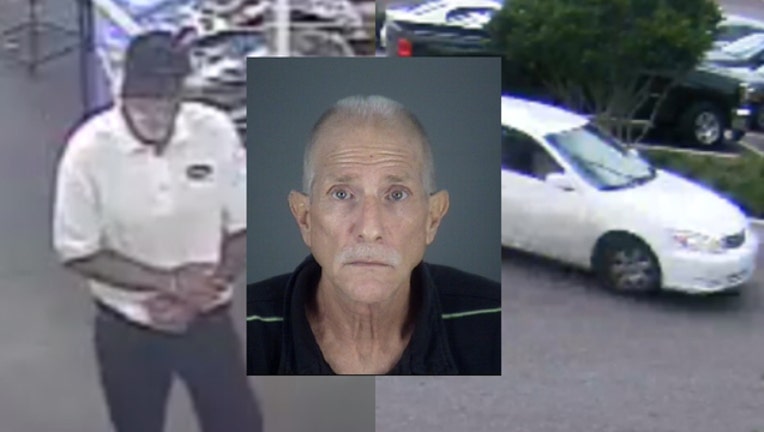 NEW PORT RICHEY (FOX 13) - Pasco County deputies arrested a robbery suspect, believed to be involved in two incidents, with one involving a 90-year-old victim.
Deputies arrested 52-year-old Benjamin Shapiro on Tuesday morning for allegedly committing the robberies on Monday. Before noon, the 90-year-old woman was outside of her car in the Walmart parking lot, located at 8745 Little Road in New Port Richey. The suspect approached her, grabbed her purse and a struggle occurred. Deputies say she screamed, and the suspect removed some items from inside the purse before fleeing in an older white Toyota Camry.
About 20 minutes later, deputies responded to a second robbery at a Dollar General, located at 6445 Massachusetts Avenue, which is within four miles of the first robbery. Deputies say the suspect entered the manager's office before exiting and finding a store clerk on the sales floor. 
According to the Pasco County Sheriff's Office, Shapiro grabbed the clerk's left arm and took him back to the manager's office, asking the victim to open the door, but the victim didn't have a key. 
Deputies said the suspect took the clerk to the front cashier area, implied he had a weapon, and demanded cash. Shapiro apparently fled with up to $200 in a similar vehicle described in the first robbery.
After 11 p.m. Monday, deputies received a call about a vehicle matching the suspect's car from the robberies. They learned it was registered to Shapiro and spoke to his roommate, who identified Shapiro as the suspect in surveillance footage from the Dollar General and Walmart locations. 
Shapiro was arrested on robbery and kidnapping charges.