Suspect identified in Palm Harbor deputy-involved shooting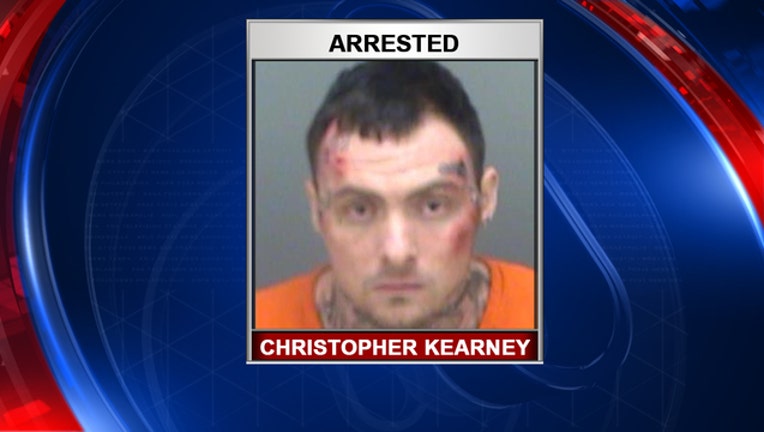 PALM HARBOR (FOX 13) - A Largo man was arrested following a crime spree and a deputy-involved shooting, officials said.
On Thursday, Pinellas County deputies said they were monitoring 32-year-old Christopher Kearney's GPS ankle monitor when they received an alert that the battery was low. Kearney was ordered to wear it after posting a bond two weeks prior.
Deputies said they were unable to find him, but contacted his girlfriend, who said he stole her 2014 Chevrolet Impala. Investigators said Kearney was involved in multiple robberies in one day within several jurisdictions in the county.
They said he approached a 20-year-old woman at the Vixen Nail Salon, located at 2676 Bayshore Boulevard in Dunedin, and stole her money and personal belongings around 1:45 p.m. Thursday.
Deputies managed to track the GPS in the Impala, and located him ten minutes later at a Thornton's gas station, located at 32490 U.S. Highway 19 North in Palm Harbor. Deputies approached Kearney inside the stolen car and pointed their guns toward him. He accelerated the vehicle, and deputies fired their weapon. Deputies said he sideswiped a citizen's car before driving away from the gas station and onto Belcher Road.
He eventually traveled onto Ranchette Lane and crashed the Impala into a tree, deputies said. He ran from the scene, but was taken into custody. After, deputies said they learned Kearney was involved in a separate robbery in Largo that occurred on Wednesday, and another at a Thornton's gas station in Clearwater Thursday morning. 
There were no reported injuries in all incidents involving Kearney, deputies said.
Kearney was transported to Pinellas County Jail, and deputies said his bond was revoked. He faces several charges including tampering with his GPS monitor.