Suspended, demoted, fired: 'Negligent' Hillsborough fire medics face punishments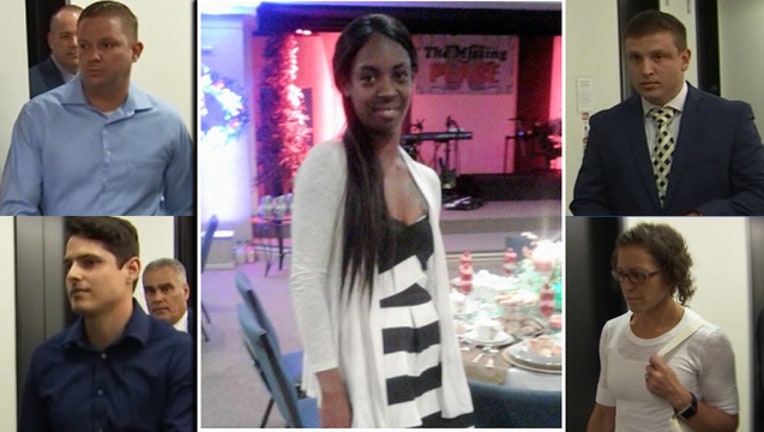 TAMPA (FOX 13) - After a two-and-a-half month investigation, Hillsborough County is punishing four first responders who were called to a home in Tampa on July 4.
Investigators found they were grossly negligent; failing to take vital signs for the patient, 30-year-old Crystle Galloway, who later died.
The county administrator says the last straw for him was that the supervisor on duty said he wouldn't have changed anything about the way they responded that day.
Galloway was having a stroke. Her mother, Nicole Black said she begged paramedics for help.
"She would have had a much better chance than she had," said County Administrator Mike Merrill.
Instead, it was Black who drove her daughter to the hospital.
"[They showed a] lack of remorse," said Merrill. "In some cases, even outright arrogance."
After putting them on paid leave in late July, Merrill said Wednesday that the four paramedics each had four opportunities to explain their actions, or lack thereof.
Wednesday, Andrew Martin was suspended for 30 days without pay.
Justin Sweeney was demoted and suspended.
Acting Lieutenant Cortney Barton was suspended and stripped of her title.
But it was Lieutenant Mike Morris who drew the biggest ire, losing his job entirely.
"The fact that he said he would do it again, the same way, and that he can tell, by looking at a patient, what they need, I think is horrendous," said Merrill.
The administrator says he can't know if Crystle would have lived had she gotten proper care. Though he apologized to Crystle's family, he also said their claims of racism did not hold up to scrutiny, adding that statistics for transported patients show nearly equal percentages of African American and Caucasian.
He also said investigators could not substantiate Black's claim that paramedics tried to dissuade her daughter from taking the ambulance.
Crystle's mother said the wounds are still fresh.
"It didn't heal me," said Nicole Black. "They say it is going to take time. I still cry on my way to work. I still cry because that is when I used to talk to my daughter."
The firefighters union isn't done either, insisting the administrator victimized the four first responders in the media before giving them due process.
He said they did all they could do that fateful night of July 4.
"Of course they are remorseful when any of their patients pass away," said spokesman Travis Horn. "I guarantee you Mike Morris is going to sue the pants off the county because of what Mike Merrill said in that press conference."
Any appeals will go back to the arbitrator, who could decide to uphold the suspensions and firing, or say they go too far.
The county could not say if they are expecting a lawsuit from Crystle's family.
She leaves behind three children.