Faith in Action: 'Tampa Kosher Foodies' helps to connect Jewish community with local food finds
TAMPA, Fla. - A local woman has made it her mission to find kosher foods around the Tampa Bay Area. She's mapping out who sells what, and where you can get it, spotlighting local supermarkets, restaurants and businesses on social media.
Keeping kosher is a meaningful act of observance for many in the Jewish religion. And Tampa Kosher Foodies is helping them keep it going.
You might spot Rachel Lisbon inspecting the meat section or maybe sorting through jars and cans, with a phone in her hand and the kosher community in her heart.
"This jasmine pepper paste, look, it's kosher for Pesach," Lisbon said in a Facebook live video.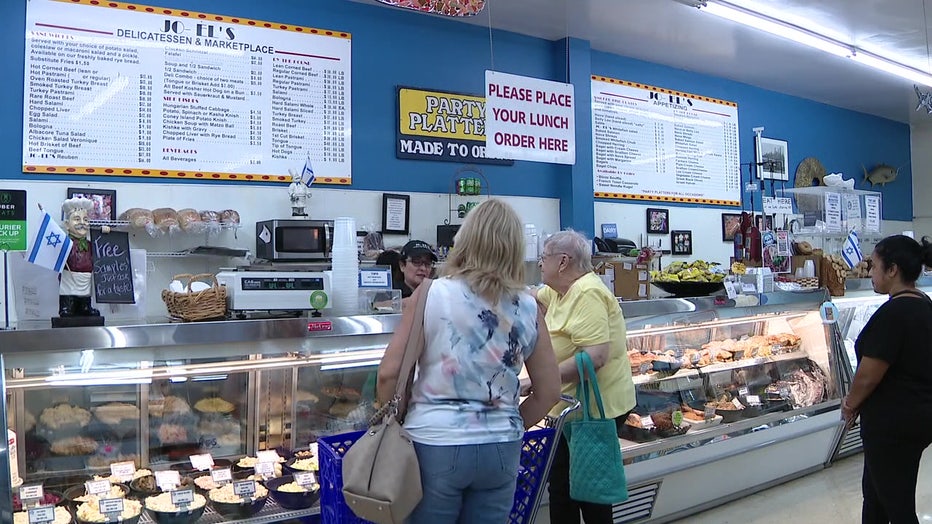 Jo-Els Kosher Deli, Market and Cafe in St. Petersburg makes finding kosher food a bit easier.
Lisbon scours Tampa Bay grocery stores on the hunt for kosher items prepared according to Jewish dietary law.
"I finished all the refrigerated areas, the chickens, the cheeses, the deli," Lisbon said later in the video.
READ: Faith In Action: Tampa pastor born without left arm, right hand shares passion for faith and music
The rules are extensive. For example, specific kosher mammals and birds must be slaughtered in a certain way. No shellfish can be consumed. Meat and dairy cannot be prepared or eaten together. The list goes on.
Lisbon, who is Orthodox, is the founder of Tampa Kosher Foodies. She shares kosher products that she finds in local stores with her online followers.
"It's something that's passed down from generation to generation," Lisbon explained. "A lot of them don't have the time or patience, so I just do it, so they don't have to do it."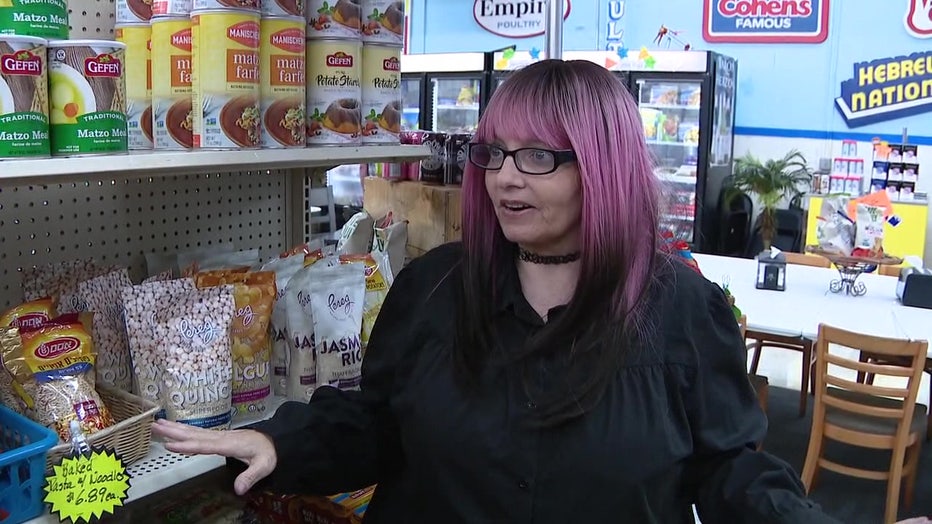 Rachel Lisbon started her own company to make kosher items easier to find.
Born and raised in Brooklyn, she was accustomed to finding strictly kosher foods just about anywhere. She's also lived in Maryland, Israel, and South Florida. But when she moved to Tampa in 2014, she found it was more challenging.
"I just remember coming and there was like nothing, like no kosher options," Lisbon shared. "Luckily, the local rabbis gave us direction."
That fueled her mission to start mapping out local kosher food finds, first for friends and family, and then, establishing a company.
"I go through everything, and I take pictures and I document it," she said. "It's not as simple as people think it is. Getting the Bush's vegetarian baked beans, you could get that anywhere. The hard part is finding the specialty items like chicken, meat, deli, even cheeses."
READ: Faith In Action: Canines 4 Christ delivers hope through wagging tails
She doesn't just stick to grocery stores. Lisbon checks gas stations, stadiums, pharmacies, hospital cafeterias, wine stores, you name it. If they sell packaged food, she's on it.
"Because of the hard work of all the community rabbis, and the need for it, it's become somewhat easier. We're getting there," Lisbon said.
Lisbon also consults with rabbis and kosher businesses, while reaching out to non-kosher establishments to help them better understand what "kosher" is, and how to get strictly kosher certification.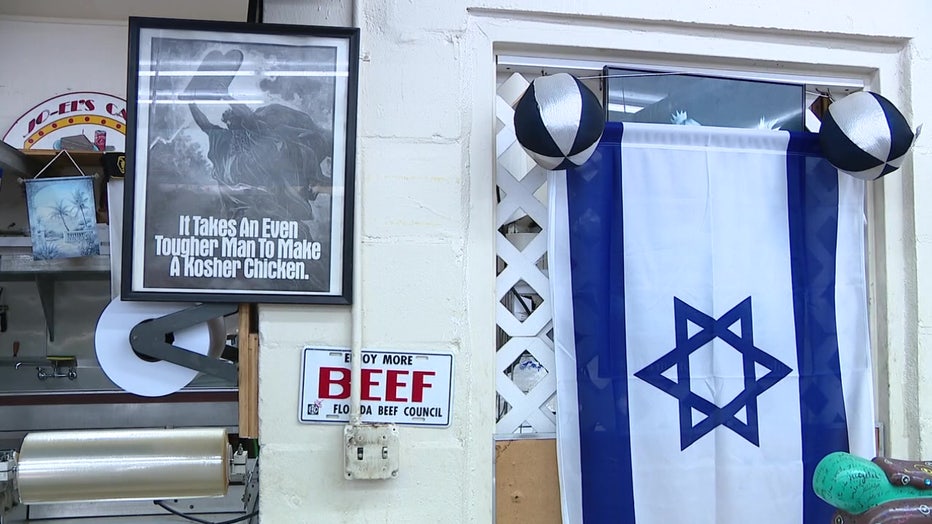 Kosher options in the Tampa Bay Area aren't easy to find compared to other cities.
Jo-El's Kosher Deli, Market and Cafe in St. Petersburg sells prepared kosher foods of all kinds. They have the pantry essentials, baked goods, fresh kosher meat cut to order, even hand-sliced nova.
"You may make a chicken, or you may sell a chicken, or you may cook the chicken," said Sharon Goetz with Jo-El's. "But that chicken has so much more meaning to the people that you're feeding, to the function that it's going to."
"I don't have to worry about what's kosher and what's not kosher," Lisbon said. "I could buy whatever I want here and not have to think about it."
Over 40 years, Jo-El's has become more than just a business, but a gathering place, and an extension of people's homes, Jewish or not.
"We have people that are observant, people that keep kosher, people that it is important to, or just as, just being Jewish," Sharon Goetz shared.
"It is so rewarding to have people come into the store and say I couldn't live here without you," said Jo-El's owner, Ellen Goetz.
While most chain stores do have kosher sections, places like this make it easier to keep kosher.
READ: Faith in Action: Bringing church and prayer inside local jails
"It goes back to the Old Testament," Sharon Goetz said. "It's about showing your faith to God. It's about being part of the community. It's about observing the laws that were written. The word itself means 'fit and proper'."
"You have to feel wonderful that you have been a part of something like this," said owner Joel Goetz.
"It is definitely a labor of love," shared Sharon Goetz.
New kosher businesses are popping up like Crembo Bakery and Cafe at Tampa's Jewish Community Center and Grill Express downtown.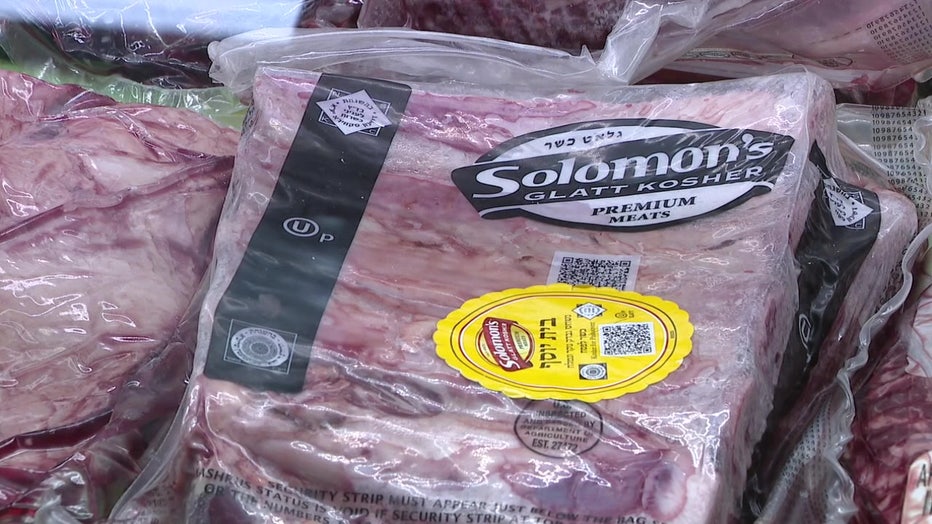 Jewish dietary law has very specific rules.
Lisbon would love to someday see Tampa and the surrounding areas become a new kosher destination.
"I'm trying to raise awareness because I want more establishments. We need more kosher places to eat," Lisbon said. "Because if you think about when you go out to eat, you become a community."
Lisbon has many more ideas, including starting a local weekly kosher meals on wheels program.
You can follow her travels and finds on Facebook and Instagram by searching for "Tampa Kosher Foodies." For more information, click here.
Do you know someone who's living out their faith and using it to make a positive impact? We are looking for "Faith in Action" stories all around the Tampa Bay Area. You can share story ideas by sending an e-mail to Haley.Hinds@Fox.com.