Tampa mayor announces choice for next police chief, who is no stranger to the agency
TAMPA, Fla. - The mayor of Tampa announced her choice for the next police chief Tuesday morning: Mary O'Connor, a former assistant chief of operations at the agency.
The decision came down to three candidates, each with at least two decades of law enforcement experience under their belt, as well as unique ideas they plan to bring to the position.  
"In the final analysis, it was Mary O'Connor who stood out," Mayor Jane Castor said during her announcement. "She also brings an outside viewpoint. Over the past five years, Mary has broadened her experience and knowledge by helping police departments across the country."
Castor, a former police chief herself, added that O'Connor combines social services support with enforcement. City council will still need to approve the mayor's selection.
Ruben "Butch" Delgado, who was the interim chief, will serve as the assistant police chief.
O'Connor dedicated the first 22 years of her career to serving Tampa and the people who call it home. She worked her way through the Tampa Police Department and retired as the Assistant Chief in 2016.
After, she spent the next five years sharing lessons learned with agencies across the country through her work with the U.S. Department of Justice and the FBI Law Enforcement Executive Development Association.
"I knew from a young age that this was my calling," O'Connor said after she was introduced as the next police chief. "I believe in this community and in this department. Together, we can do great things."
In her remarks during a community forum a few weeks ago, she said that she believes police need to be consistent in their enforcement techniques and reliable. She added that building a trusting relationship with the community is important.
PREVIOUS: City of Tampa announces top three candidates for chief of police
As a senior advisor with a leading law enforcement think tank, Mary helps police departments develop strategic plans for reducing crime by focusing on community engagement, and evidence-based policing. Mary is also a senior faculty member of the FBI's premier leadership training program that helps develop police officers into well-rounded leaders who understand the importance of diversity, collaboration, social equity, and trust-building.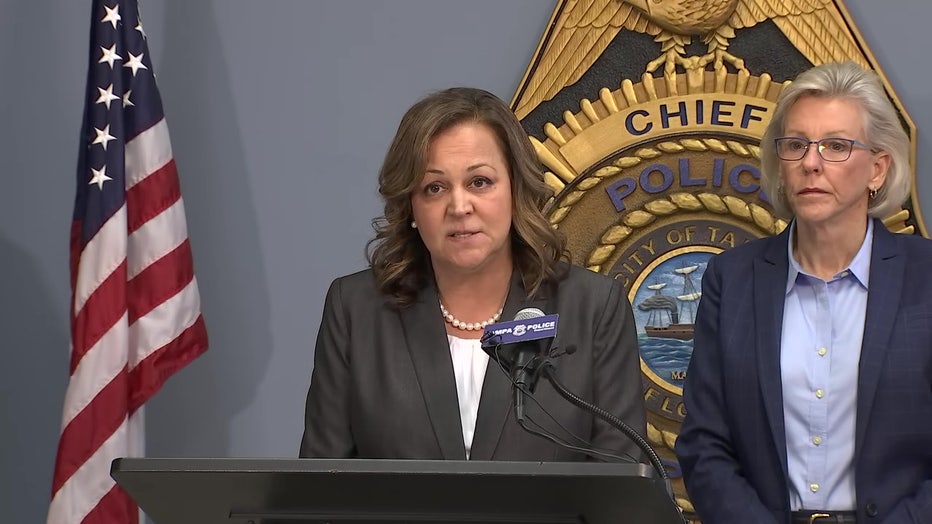 Her years of training have elevated Mary's breadth of knowledge and experience. She is ready to bring innovative ideas back to Tampa where she discovered that law enforcement was her calling.
PREVIOUS: After 31 years on the force, Tampa Police Chief Brian Dugan will retire
Mary is most proud of the positive impact she's had on countless lives from community members to police officers. She created an after-school program in a disadvantaged neighborhood that helped hundreds of children thrive. Mary was also instrumental in the development of breakthrough technology that improved officer and community safety.
At TPD, Mary was known as a results-oriented, inclusive leader. She helped implement a progressive plan focused on smart policing and community partnerships that reduced crime and arrest rates by more than 70 percent. She's ready to build on that success and once again serve the city she loves.