TPD: Teens who caused deadly crash while fleeing police in stolen car have history of car thefts
TAMPA, Fla. - Over the weekend, Tampa police said three teens and a 12-year-old fled police in a stolen car, crashed into another vehicle, and killed a passenger. Tampa Police Department Chief Designate Mary O'Connor said two of the teens in the vehicle were arrested five days before, "for the exact same crime."
Two others inside the second car were hospitalized.
The deadly crash happened Saturday night. O'Connor said an officer spotted a car, that had been reported stolen, near 26th Street and Chelsea Avenue around 10:45 p.m. The officer tried to pull the driver over, but the car took off, O'Connor said.
Inside the car were all boys: a 15-year-old, two 14-year-olds, and a 12-year-old. O'Connor said two of them were taken to the hospital with minor injuries. Two of them had been placed on "home detention" for allegedly stealing and burglarizing a vehicle in the days before, O'Connor said, and another of them had been arrested for a similar car theft charge in January.
Police pursued the vehicle, but the driver sped toward Plant City. After turning onto Turkey Creek Road, the car, a black Nissan, rear-ended a Honda sedan. 
READ: FHP: Driver falls asleep, kills 2 fixing tire on I-275
The impact from the crash sent the Honda into a telephone pole. 
Provided by Tampa Police Department
A 44-year-old female passenger was killed. Another was said to be stable Monday and the third was in critical condition. A 24-year-old woman was in critical condition and a 30-year-old man was expected to be OK.
"This is no video game," O'Connor said during a press conference Monday. "This is real life with real lives at stake, and this time, these juveniles' actions cost an innocent person their life."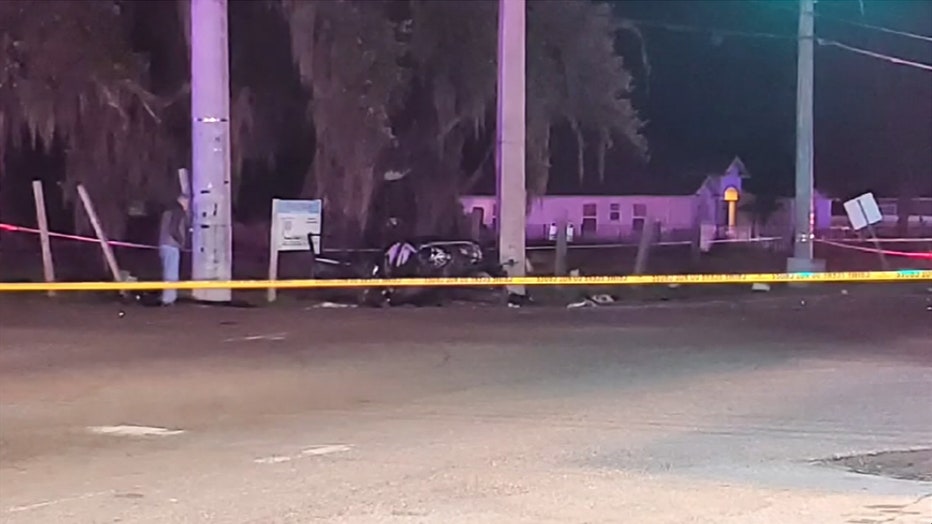 Provided by Tampa Police Department
TPD said the stolen Nissan was likely used in the theft of another vehicle. 
"This is a justified reason for pursuit under our policy," O'Connor said, adding that there are "still a lot of unanswered questions" and the investigation is still in the early stages. 
The Hillsborough County Sheriff's Office will lead the investigation, but TPD will investigate the pursuit, as well.