From Tampa Bay to 'Champa' Bay: How Tom Brady forever changed sports in Florida
TAMPA, Fla. - Tom Brady's arrival in 2020 instantly transformed Tampa Bay into 'Tompa Bay.' He injected a winning culture, not only into the Buccaneer franchise, but into the entire Tampa Bay sports market.
"Tom Brady, he elevated this city," former Rays outfielder Kevin Kiermaier told FOX 13 Sports. "I remember when the news first broke. You had to pinch yourself because, of all places. How is he coming to the Bucs? But once it settled in, and you start seeing him in the cream-orange jersey and in training camp, you are like, 'This is the real deal.'"
RELATED: Tom Brady announces he is retiring 'for good' after 23 seasons in NFL
The Tampa Bay Buccaneers' Brady era coincided with the COVID-19 pandemic, and it took a helicopter to get the first look at Brady as a Buc, but even before he hit the field in a team uniform at training camp, his winning aura spread through Tampa Bay's sports teams. 
For the Lightning's GOAT, Steven Stamkos, it's hard to see Brady go, but he'll always remember the impact, changing the perception of Tampa Bay to Champa Bay.
"That's what a player of that caliber can do," said Steven Stamkos. "It can transform a whole sports market. I think that's what he did. We've been pretty fortunate to have the team success that we've had in that stretch since he came here in Tampa, but for him to come in the first year and win the Super Bowl, I think that was pretty special. For us to be able to have a guy of that caliber of an athlete, an all-time great be in our city, it brought a lot more attention to even us. It was certainly cool to be a part of."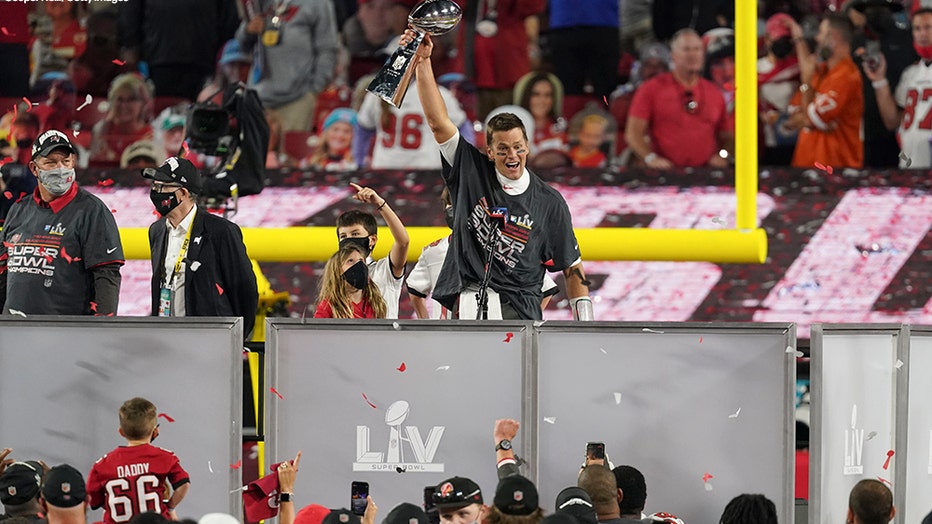 TAMPA, FLORIDA - FEBRUARY 07: Tom Brady #12 of the Tampa Bay Buccaneers hoists the Vince Lombardi trophy after the NFL Super Bowl 55 football game against the Kansas City Chiefs on February 7, 2021 in Tampa, Florida. (Photo by Cooper Neill/Getty Imag
University of Tampa baseball's head coach, Joe Urso, knows something about championships. He's only one ring shy of Brady's seven rings.
"For the years that he was here, I think it meant the world to all the sports here," said Urso. "You just saw Champa Bay being talked about. So it just wasn't football. The hockey, the baseball, just everything. It was because of him. The winning that he has, championship seasons he won, obviously a lot of them in New England, but what he brought to Tampa Bay in those three years will be remembered for a long time."
MORE: What's next for Tom Brady after his 'for good' retirement?
Tampa Bay Rowdies captain Leo Fernandez is a Brady super fan. He believes Tom still has greatness in him, and thought the GOAT would be back for a 24th year.
"He just inspired greatness and just that championship mentality to almost every team out here," said Fernandez. "I think when you see him come to a team, it's championship or bust. I think, for us, that's what we strive for every time we step onto the field. For him and his impact it raised the standard for everybody in Tampa Bay."
"So, I thank you, Tom Brady, for coming here and making it fun for us people around here in Tampa Bay," said Kiermaier. "What a time, the last few years. So much winning."
"I think this city can wish him all the best because he brought a championship here and that's what he came here to do," said Stamkos.