Terminally ill veteran receives a 'Star Wars' surprise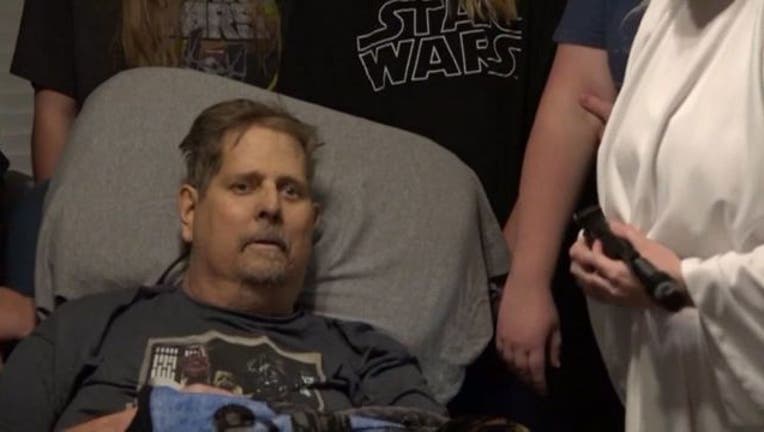 article
CIBOLO, Tex. (KENS) - A Texas veteran received a special surprise from strangers in his final hours.
Dave Ledum served as a pilot in the U.S. Air Force for 20 years. He was also a huge "Star Wars" fan, who go the nickname "Chewie" during his time in the military.
In the summer of 2016, Dave was diagnosed with an aggressive brain cancer, and was given a year to 15 months to live.
Recently, his wife and her former coworker had an idea to surprise him. On Thursday, they rounded up volunteers to dress up and visit him as "Star Wars" characters.
His wife, Karla Ledum, said she knew a couple of the folks, and they reached out to other people.
"So, it was a chain," she said. "I feel so much gratitude and love for these strangers, just giving their time and willing to help out someone."
During the visit, Dave responded, "I just say, 'Thank you,'"
A few hours after everyone left, he suffered a seizure. The family said paramedics performed CPR for 30 minutes and gave him five shots of adrenaline, but they were unable to resuscitate Dave. 
He's survived by his wife, Karla, and five daughters.