"The only safe place is the ocean": Death toll rises to 31 in California wildfires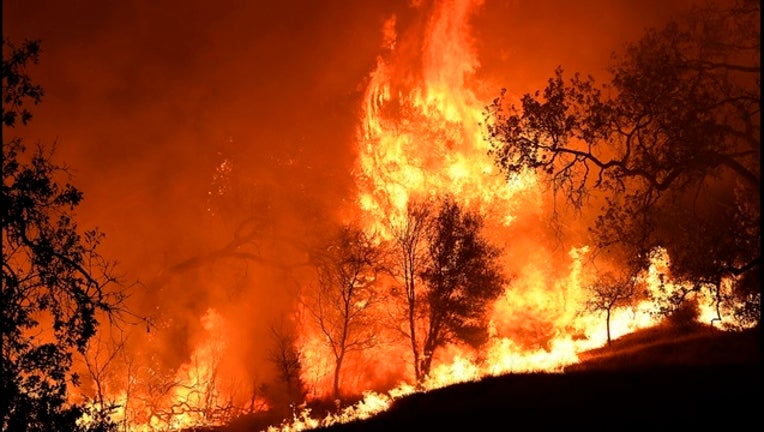 article
MALIBU, Calif. (AP) -- Strong Santa Ana winds returned to Southern California on Sunday, causing flare-ups of a huge wildfire that has scorched a string of communities west of Los Angeles, but no additional structures were believed to have been lost, authorities said.
Huge plumes of smoke rose in the fire area, which stretches miles from the northwest corner of Los Angeles' San Fernando Valley to the Malibu coast.
Airplanes and helicopters swooped low over hills and canyons to drop loads of fire retardant and water.
A one-day lull in the dry, northeasterly winds ended at midmorning and authorities warned that the gusts would continue through Tuesday.
The lull allowed firefighters to gain 10 percent control of the Woolsey fire, which has burned more than 130 square miles (335 square kilometers) in western Los Angeles County and southeastern Ventura County since Thursday.
Los Angeles County Fire Chief Daryl Osby stressed there were numerous hotspots and plenty of fuel that had not yet burned, but at sunset he said there had been huge successes despite "a very challenging day."
The count of destroyed homes remained at 177 but it was expected to increase when an update is reported Monday. Osby noted that a November 1993 wildfire in Malibu destroyed more than 270 homes and said he would not be surprised if the total from the current fire would be higher.
The fire's cause remained under investigation but Southern California Edison reported to the California Public Utilities Commission that there was an outage on an electrical circuit near where it started as Santa Ana winds blew through the region.
SoCal Edison said the report was submitted out of an abundance of caution although there was no indication from fire officials that its equipment may have been involved. The report said the fire was reported around 2:24 p.m. Thursday, two minutes after the outage.
Venture County Fire Chief Mark Lorenzen hadn't heard about the Edison report. "It wouldn't surprise me" if it turns out that winds caused equipment failure that sparked a fire, he said.
The death toll stood at two. The severely burned bodies were discovered in a car on a long residential driveway on a stretch of Mulholland Highway in Malibu, where most of the surrounding structures had burned. Authorities said investigators believed the driver became disoriented and the car was overcome by fire.
The deaths came as authorities in Northern California announced the death toll from a massive wildfire there has reached 29 people, bringing the statewide total to 31.
MORE: How to help those affected by California wildfires | Trump threatens to withhold payments to Calif. because of 'poor' forest management
Progress was made on the lines of smaller fire to the west in Ventura County, which was 70 percent contained at about 7 square miles (18 square kilometers), and evacuations were greatly reduced. But thousands remained under evacuation orders due to the Woolsey fire.
Three firefighters suffered minor injuries, Osby said.
Also injured was a well-known member of the Malibu City Council. Councilman Jefferson "Zuma Jay" Wagner was injured while trying to save his home, which burned down, Councilman Skylar Peak told reporters Sunday.
Peak said Wagner was hospitalized but was expected to recover. Wagner runs Zuma Jay Surfboards, a longtime fixture on Pacific Coast Highway near the landmark Malibu Pier.
The extensive celebrity community within Malibu wasn't spared. Actor Gerard Butler and Camille Grammer Meyer of "The Real Housewives of Beverly Hills" were among those whose homes were damaged or destroyed.
Areas that suffered significant destruction included Seminole Springs, a mobile home community nestled by a lake in the rugged Santa Monica Mountains north of Malibu.
"I smelled the fire and didn't think, grabbed my dog and left," resident Lisa Kin said Sunday, tears in her eyes and her voice breaking. "It hasn't burned in decades and I knew we didn't stand a chance."
She described Seminole Springs as a "beautiful community" of families and older people who appreciate its tranquility. But she said she always feared a wildfire since she moved there 15 years ago, especially during recent years in which there's been almost no rain.
Roger Kelly, 69, who defied orders and hiked back into Seminole Springs, estimated 90 of its approximately 220 homes were destroyed. He had seen a neighbor's home intact in a TV news aerial shot and hoped his home had survived. It did, but just a half-block away others were laid to waste.
"I just started weeping," he said. "I just broke down. Your first view of it (the destruction), man it just gets you."
Kelly said he had filled trash cans with water, soaked towels and readied a garden hose to defend his home early Friday, but when the air filled with smoke he and his wife fled the community where he has lived for 28 years and raised two children.
When he returned, virtually everything on the landscape around the community had been reduced to ash.
Spot fires continued to occur late Sunday afternoon near the Malibu campus of Pepperdine University, where 3,500 students were sheltering in place. The university said it was closing Malibu campus and its Calabasas campus to the north until Nov. 26 but classes would be remotely administered online and through email.
Santa Ana winds, produced by surface high pressure over the Great Basin squeezing air down through canyons and passes in Southern California's mountain ranges, are common in the fall and have a long history of fanning destructive wildfires in the region.
But fire officials say fire behavior has changed statewide after years of drought and record summer heat that have left vegetation extremely crisp and dry.
"Things are not the way they were 10 years ago ... the rate of spread is exponentially more than it used to be," said Lorenzen, urging residents to not put their lives at risk by trying to defend their own homes instead of evacuating.
That change has impacted the ability to move firefighting resources around the state, officials said.
"Typically this time of year when we get fires in Southern California we can rely upon our mutual aid partners in Northern California to come assist us because this time of year they've already had significant rainfall or even snow," said Osby, the LA County fire chief.
With the devastation and loss of life in the Northern California fire, "it's evident from that situation statewide that we're in climate change and it's going to be here for the foreseeable future," he said.