'They look like you': Play performed by seniors raises awareness of scams
CLEARWATER, Fla. - The Senior Actors Guild and Education Services (SAGES) was created with a mission of raising awareness about issues faced by older adults. 
SAGES founder Linda Goldman says she wrote her first play when she was 70 years old. She says she saw a need in the local theater community. 
"It was because I wasn't seeing senior stories on stage. If seniors were on stage, they had minor roles or used for a joke. And these are stories aren't there," Goldman said.
Through her work with SAGES, Goldman says she's able to give this community a voice and make sure their stories are told in an entertaining and informative way.
Her latest production "Phoney Baloney" is a true-to-life comedy that shows how phone scammers target seniors as played by seniors.
READ: Social media hackers drag Pasco County man into puppy scam: 'I'm not doing this'
"Everyone thinks I'm smart. I'm not going to fall for a scam. But that kind of makes us a little bit vulnerable, really. To tell you the truth, some of them are very good, and they're always evolving," Goldman said.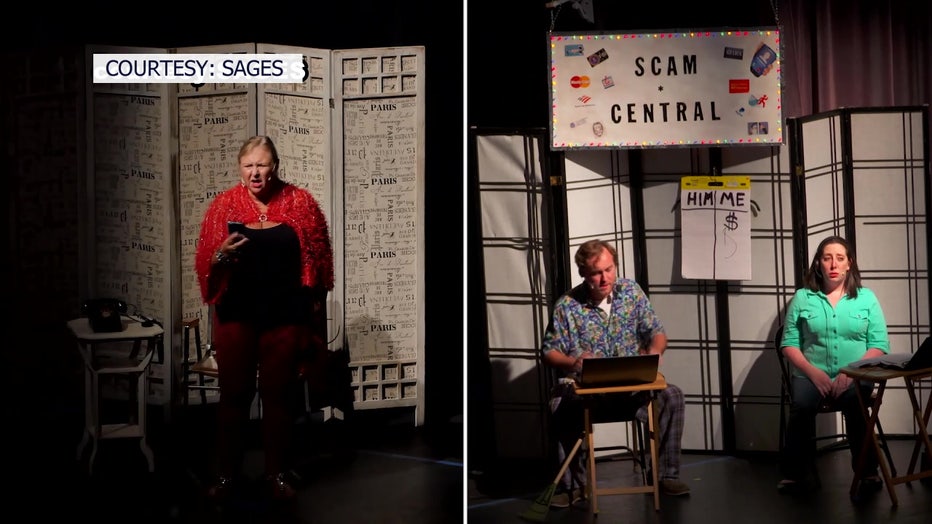 SAGES using a play to remind older adults of scammers 
The Better Business Bureau says those scams are everywhere. Some of the most common ones are online purchase scams, home improvement scams, romance scams, grandparent scams.
The 2022 BBB scam tracker showed people 65 and older were more likely to report losing money than other age groups when contacted by phone or postal mail.
"The best defense against scams is education and being aware of scams. Knowing how they operate, knowing which scams exist. And when people go to events like this, and they educate themselves, they're more likely to avoid those scams," Bryan Oglesby of the Better Business Bureau Serving West Florida said.
MORE: 10-year-old 'Swiftie' surprised with tickets to Taylor Swift's second Tampa concert
Education and advocacy is a key component of SAGES.
"To have these scenarios up on stage, and we show the scams taking place, and we show the after how they're talking to their friends and what comes next. To see that on stage is better than having to experience it yourself, but you'll remember it like a memory," Christine Hamacher, Executive Director, SAGES Theater Inc. said.
Phoney Baloney will play Saturday, April 15, at 2 p.m. at Conmy Center in Dunedin. Complimentary tickets can be reserved online.
For more information, visit sagestheater.org.