Three former G4S employees arrested on felony charges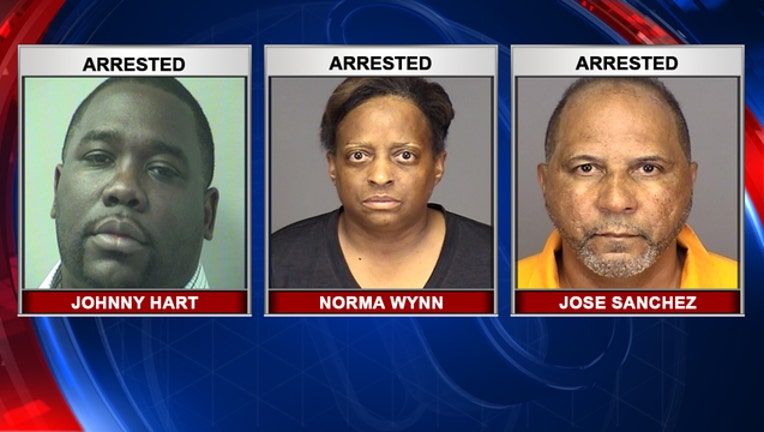 article
AVON PARK (FOX 13) - Three former Highlands Youth Academy employees have been arrested on multiple felonies.

The academy, located in Avon Park, is a residential facility for juveniles under the care of the Department of Juvenile Justice. It was operated under G4S Youth Services until it was sold in March. The employees who were arrested were employed at the facility while G4S still owned it.

Polk County Sheriff Grady Judd is expected to offer more details surrounding their arrests at a Friday press conference beginning at 1 p.m.

Norma Wynn, 56, of Sebring is the former facility administrator and Jose Sanchez, 63, of Sebring, is the former assistant administer of the academy. Both were arrested and booked into Highlands County Jail.

Johnny Hart, 40, of Okaloosa County, is also a former assistant administrator. He was arrested on Thursday at the Okaloosa Youth Development Center in Crestview, where he is a facility administrator. He was booked into Okaloosa County Jail.

In April 2013, Polk County deputies responded to a large riot at the facility, where 61 juveniles were arrested. A separate investigation took place in 2015 regarding "numerous escapes from residents," according to a media release. The escapes were never reported to the Sheriff's Office by the academy staff.

It ultimately led to a grand jury finding the academy to be grossly mismanaged and the academy should "cease to exist." It advised the DJJ to require its contractors to enforce strong policies where law enforcement should be contacted to investigate felony crimes on its property. After the findings, the DJJ didn't shut down the facility and continued to employ G4S until March of this year.

In November 2015, detectives received tips regarding of criminal activity at the academy that wasn't being reported – this included sexual activity between adult staff and residents, and juvenile residents battering staff members without repercussions from administrators.

It prompted an investigation. In May 2016, detectives arrested Deidre Baucom, who was a youth care worker at the time. According to the agency, she confessed to having sexual contact with juvenile residents.

The Polk County Sheriff's Office said Wynn, Sanchez and Hart destroyed or tampered evidence, failed to report child abuse, and willfully neglected juveniles under their supervision.

Additional information will be provided at the press conference.