Toronto man loses six-figure job for yelling offensive comment during live report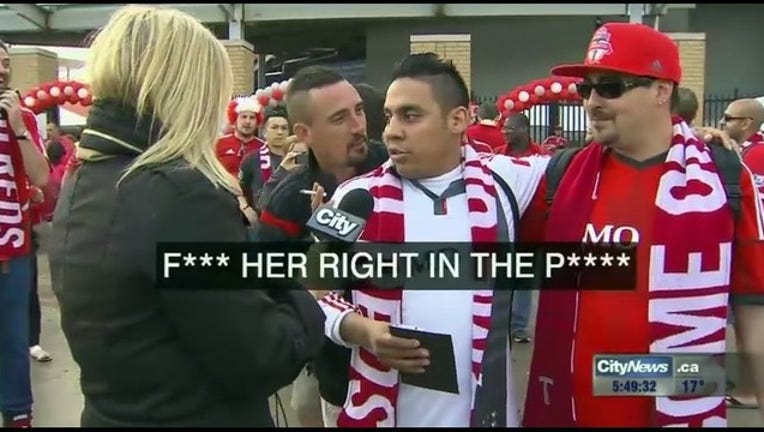 article
It's something that has been happening for quite some time: People passing by reporters on live TV and yelling the phrase, "F--- her right in the P---."
In fact, Tampa Bay Buccaneers quarterback Jameis Winston was suspended for performing the stunt at Florida State.
For the most part, the vulgarity of the statement has been overlooked by the electronic mob online, with most people brushing it off as "boys will be boys."
Until now.
And you can thank a sport reporter in Toronto for that after she decided enough was enough. CityNews reporter Shauna Hunt confronted a group of men who performed the stunt during a live hit, and the video has gone viral.

Mobile App Users: Click here to watch

They do not appear to be intimidated by her frustration, as she questions them about the content of their comments. Now, one of the men has been fired from his six-figure job, Major League Soccer is working on a ban for the individuals involved, and their attitudes toward the stunt are getting backlash across the Internet.
"Hydro One is taking steps to terminate the employee (identified as Shawn Simoes) for violating our Code of Conduct," Simoes' company tweeted. "Respect for all people is engrained in the code and our values. We are committed to a work environment where discrimination or harassment of any type is met with zero tolerance."
The league's communication team tweeted that it is "appalled that this trend of disrespectful behavior would make its way to (Toronto)." They are trying to identify the four men involved in the entire ordeal.
A newspaper in Toronto reports that the second man on the video was identified as a college alumnus of a nearby school, and that he holds a job with Cognex Corporation. They would not identify him but said they took the matter seriously.