Toronto Raptors to allow limited number of fans at Amalie Arena games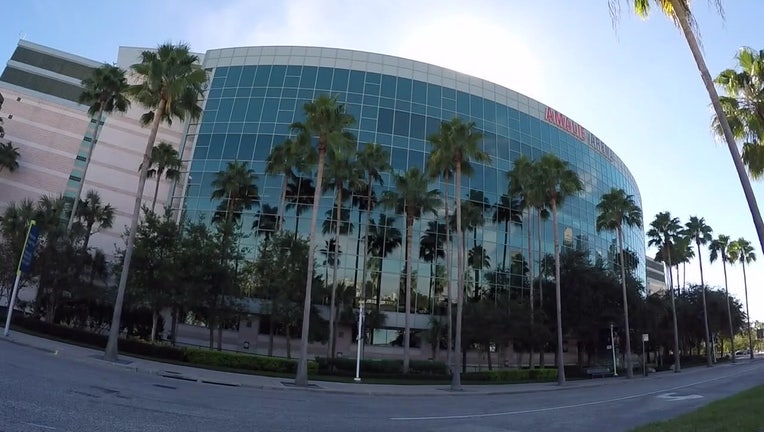 TAMPA, Fla. - When Toronto tips-off in Tampa, Amalie Arena won't be completely silent -- and Matt Shapiro wants it that way.
"Once you are in the stands, you are going to get hooked, and once you're hooked, you want to support your team," Shapiro said.
Since he heard Toronto was coming to town, he expanded his t-shirt business to include Raptors-inspired stuff.
Their slogan, "We Are The North," has become, "We Are The South."
"I love my Tampa Bay sports," he said, "and I want to showcase our area in a tasteful way."
Tickets will go on sale Thursday to 3,200 fans for preseason and 3,800 for the regular season, which starts December 23 against New Orleans.
Seats will be sold in pods of two or four and will start at $35. There won't be any seats within 30 feet of the court and masks will be required.
It's no packed house, but people are people.
"The restaurants down there, the retail, the attractions, might see some economic impact," said Santiago Corrada of Visit Tampa Bay.
Along with the novelty of having the NBA in Tampa, Visit Tampa Bay also says its a good opportunity to show that our arena can handle events in the COVID-era.
"We have been marketing in Miami," he said. "We have been marketing in other parts of the state where people would take a number of hours to get here, and would stay overnight."
For visitors and home fans alike, the question is, will "We The South" become a permanent motto for a temporary team?
"They pretty much went from as far north as they can go to as far south.," said Shapiro. "I figured lets adopt what the team's motto is, but tweak it."
Tickets for the first 12 games will go on sale Thursday, but there will be more because the Raptors expect to be in Tampa at least until March, which is halfway through the season.
The Raptors have made Tampa their temporary home to begin the 2020-2021 season due to COVID-19 restrictions in Canada.