Tropical Storm Gordon expected to form Monday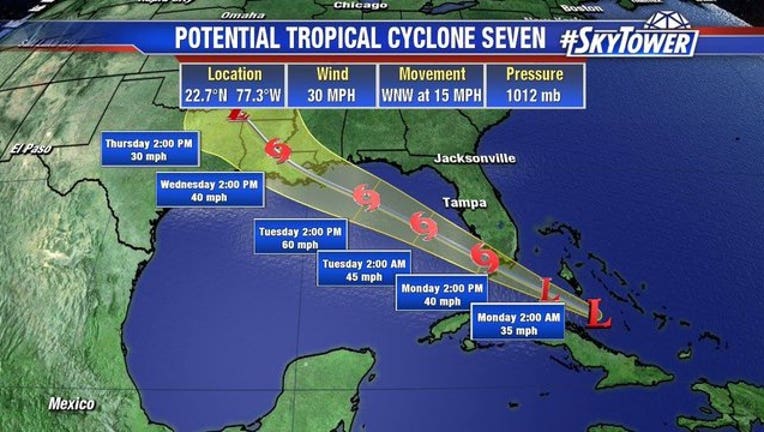 TAMPA (FOX 13) - Invest 91 found a more favorable environment on Sunday and started to some signs of organization. As of 8pm Sunday evening, the disturbance was passing just north of eastern Cuba and with an 80% chance of development.
The National Hurricane Center has tagged this as Potential Tropical Cyclone Seven – which allows them to issue tropical storm watches/warnings before a storm has formed. We'll likely see a tropical depression form late tonight or early Monday morning, with Tropical Storm Gordon forming at some point Monday afternoon or evening.
For central and south Florida this will simply be a rainmaker, with the highest rainfall totals of 3-5″+ across extreme South Florida and the Florida Keys. Around Tampa Bay and central Florida, expect scattered showers and storms with breezy conditions on Labor Day. Thereafter, things will get back to normal as the storm moves away from Florida and heads toward the central Gulf Coast.
Models are in pretty good agreement with an eventual landfall somewhere between Grand Isle, LA and Mobile, AL. Tropical storm watches are currently in effect from the FL/AL line westward to near Morgan City, LA. Those currently under a watch should be preparing for possible tropical storm conditions as early as Tuesday afternoon.
Elsewhere in the Atlantic, Tropical Storm Florence continues to move west over open waters. Not too far behind, a new tropical wave is rolling off the coast of Africa – currently a 20% chance of development over the next 5 days. The long-term track of both of these features is not yet written in stone. If one or both of these gets blocked by the Bermuda high to the north, it will have a much further track to the west, bringing it close to the United States. We have a lot of time to watch and see how things play out. Be sure to check back for updates over the next week or two.
You can track the storm at MyFoxHurricane.