Trump's Puerto Rico tweets draw bipartisan fire in Florida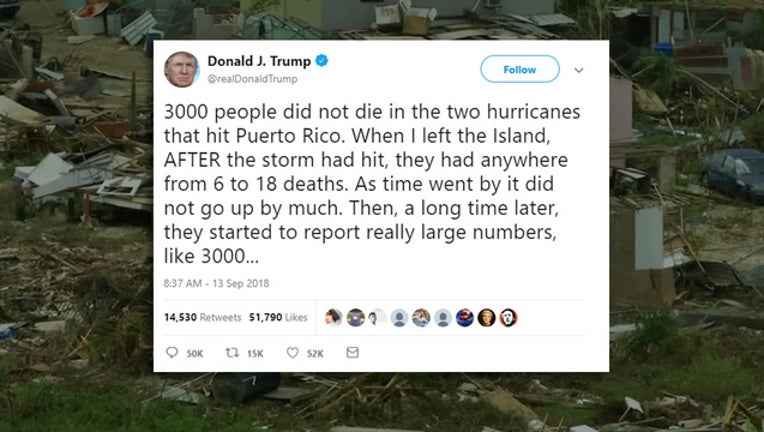 article
TALLAHASSEE (NSF) - President Donald Trump received bipartisan pushback Thursday from Florida politicians after he tweeted that the estimated death count in Puerto Rico from last year's Hurricane Maria has been dramatically inflated by Democrats.
With both parties in Florida looking to draw support from Puerto Rican voters in the November elections and as Hurricane Florence barreled down on the Carolinas, Trump doubled down in a series of tweets Thursday after facing criticism for contending Wednesday the federal government "did an unappreciated great job in Puerto Rico" after Maria.
"3000 people did not die in the two hurricanes that hit Puerto Rico," Trump tweeted a little before 9 a.m. Thursday. "When I left the Island, AFTER the storm had hit, they had anywhere from 6 to 18 deaths. As time went by it did not go up by much. Then, a long time later, they started to report really large numbers, like 3000..."
".....This was done by the Democrats in order to make me look as bad as possible when I was successfully raising Billions of Dollars to help rebuild Puerto Rico," Trump followed in a tweet. "If a person died for any reason, like old age, just add them onto the list. Bad politics. I love Puerto Rico!"
Republican and Democratic politicians in Florida immediately took issue with the tweets. The parties are courting Puerto Rican voters who are longtime residents of Florida, as well as those who relocated to the state after Maria caused devastating damage to the U.S. territory last September.
"I disagree with @POTUS– an independent study said thousands were lost and Gov. (Ricardo) Rosselló agreed," Gov. Rick Scott tweeted. "I've been to Puerto Rico 7 times & saw devastation firsthand. The loss of any life is tragic; the extent of lives lost as a result of Maria is heart wrenching. I'll continue to help PR."
U.S. Sen. Bill Nelson, a Democrat who is being challenged by Scott in November, called Trump's comments "shameful."
"We deserve and expect more from someone who holds the highest office in our country," Nelson said in statement.
The Republican and Democratic gubernatorial candidates, in differing tones, also separated themselves from Trump's statement.
Republican Ron DeSantis' campaign issued a statement that said the gubernatorial candidate --- typically one of Trump's most-ardent supporters --- is "committed to standing with the Puerto Rican community, especially after such a tragic loss of life" and that he "doesn't believe any loss of life has been inflated."
"As chairman of the National Security Subcommittee, he conducted an oversight hearing earlier this year to identify deficiencies in the federal response to Hurricane Maria," the campaign said of DeSantis, who this week resigned from Congress to focus on the gubernatorial race. "He has worked alongside Rep. Jennifer Gonzalez-Colon (of Puerto Rico) to secure support for rebuilding efforts. In August, he visited the island to meet with elected leaders and get the latest briefing from FEMA regarding recovery efforts."
Democratic gubernatorial nominee Andrew Gillum said "no death is partisan and our brothers and sisters in Puerto Rico deserved better from @realDonaldTrump before, during and after the hurricane."
Separating from Trump on the issue might be more vital for Scott and DeSantis, as Democrats tried to tether them to the Republican president.
State Sen. Victor Torres, an Orlando Democrat who is Puerto Rican, called Trump's tweets "painful and horrifying and completely unfounded," while also labeling Scott and DeSantis the president's "closest allies" in Florida.
"Scott and DeSantis have made clear who they stand with: Donald Trump, not the people of Puerto Rico and Florida --- and no election year stunt can erase that fact," Torres said in the statement issued by the Florida Democratic Party.
At the end of August, the island government raised the official death toll to approximately 2,975 after maintaining for nearly a year that 64 people had died as a result of the storm. The revision was based on the findings of a George Washington University study.
Offering an emphatic rebuke of Trump was Alan Levine, a member of the Florida university system's Board of Governors who noted he voted for Trump in 2016.
"Mr. President. SHUT UP. Any death, whether one or 3,000 is a tragedy," tweeted Levine, who served as a top aide to former Gov. Jeb Bush. "That doesn't mean you caused it, and it's not about you. Show compassion for the families. Learn what we can so future response can improve. Honestly...."
Levine, who expressed pride over Scott's "humility" in efforts to assist a post-storm Puerto Rico, went on to say he didn't blame the president for the deaths, "but fighting over it now is beneath him."
"Here's a response I could respect: 'every death related, directly or indirectly, to a massive and destructive disaster, is a tragedy,' " Levine tweeted. " 'We should do all we can to learn from the event, so local and federal agencies can adapt to the needs, and ensure the confidence of the public.' "
U.S. Sen. Marco Rubio, R-Fla., expressed exasperation that, "These days even tragedy becomes political."
"3k more Americans died in #PuertoRico after Hurricane than during comparable periods before," Rubio tweeted. "Both Fed & local gov made mistakes. We all need to stop the blame game & focus on recovery, helping those still hurting & fixing the mistakes."
Rubio also sent out a series of tweets explaining that the early response to Maria "wasn't good, but not because the Fed Govt. didn't care."
Rubio noted that the mainland FEMA recovery model doesn't work on islands and that it took too long for U.S. Department of Defense to take control due to resistance from Washington and the Puerto Rican government.