TSA agent jumps from hotel balcony into Orlando airport atrium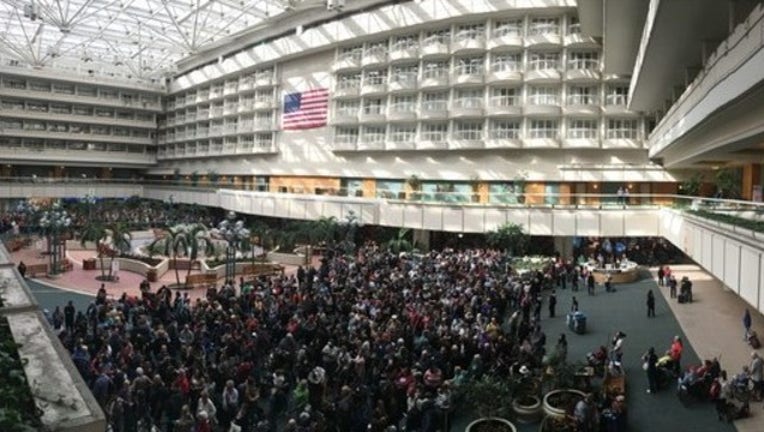 ORLANDO, Fla. (FOX 13) - ORLANDO (FOX 13) - A TSA worker is dead after police say he jumped off the 10th floor balcony of the Hyatt Regency Hotel inside the Orlando International Airport Saturday in an apparent suicide.
The incident sent passengers running and screaming. Some worried the sound of impact was from a bomb or a gun. Everyone inside the airport had be re-screened, forcing passengers to wait several hours in line. The incident also resulted in dozens of flight cancellations.
James Shaw, of Safety Harbor, witnessed the incident. He was staying inside the hotel this weekend for his daughter's dance competition. He said he was just 4 feet away from the man moments before he jumped.
"I didn't know what it was," Shaw said. "I thought it was a shooter or a bomb. People are screaming. And I looked to my left and I saw him."
The agent was off duty at the time and had just clocked out of work when police said he jumped off the 10th floor balcony into the airport atrium.
"I go down to the fourth floor where the event is," Shaw said. "Turn the corner and you just hear a boom."
Paramedics found the man in critical condition and transported him to a local hospital where he later died.
"Our thoughts and prayers go out to the officer's family, friends and everyone in our TSA family," TSA said in a statement released Saturday on Twitter. 
As of Saturday night, the man's identity has yet to be released.
If you or someone you know is having suicidal thoughts, ask for help by calling the National Suicide Prevention Hotline at 1-800-273-8255.