Two arrested for operating illegal chop shop from Riverview home, detectives say
RIVERVIEW, Fla. - Neighbors suspected something strange was happening over their fence line. When Hillsborough County deputies took a look, they say they discovered an illegal chop shop.
"Essentially, this person is running an illegal parts shop," said Amanda Granit, public information officer for the Hillsborough County Sheriff's Office. "So they are taking anything that might be of value out of the car and turning it around and selling it for profit when they have stolen the vehicle."
A total of 12 vehicles and dozens of additional car parts were found at the home located at 10505 Symmes Road in Riverview.
The Hillsborough County Sheriff's Office received tips that a vehicle salvage business was being operated illegally at that location. When deputies arrived to talk to the residents and inspect the property around 9 a.m. on Wednesday, Nov. 10, they located two stolen motorcycles.
After getting a search warrant for the residence, deputies said they found 10 more vehicles, which included a combination of cars, trucks, and motorcycles, many of which had vehicle identification numbers either scratched off or altered. The license plates had also been removed.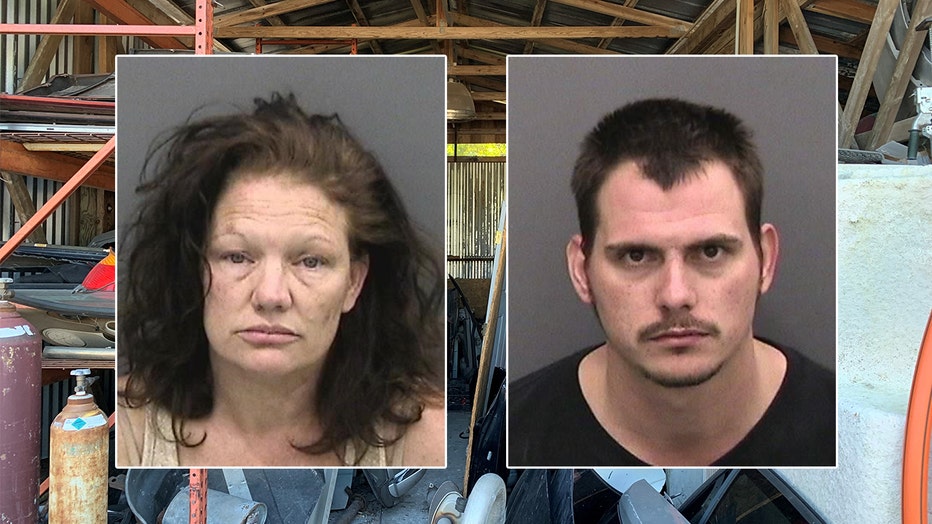 Booking images for 47-year-old Jessica Vollrath and 26-year-old Joshua Scott
"It is unfortunate for people who had their vehicles stolen. Not only did they have it stolen and when we did recover the vehicle, they probably might not be able to use it because of the condition that it was in," Granit said.      
Joshua Scott, 26, and Jessica Vollrath, 47, were each arrested for operating a chop shop and two counts of grand theft - motor vehicle.
"They would make all kinds of noises," said one neighbor who didn't want to be identified. "Back in the summer, they were cutting up something, metal or something, and the noise went on for days. It's very nerve-wracking to have neighbors like that."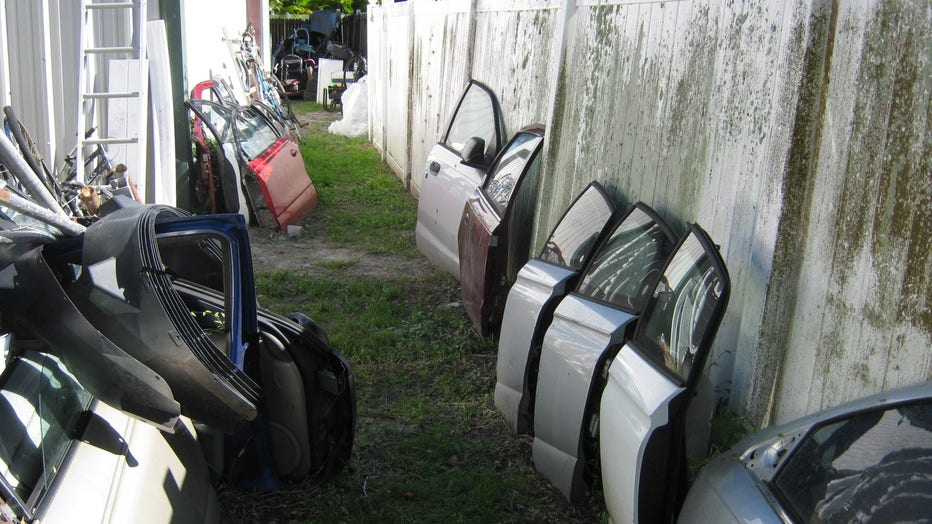 Hillsborough County Code Enforcement also responded and advised that the property was already in violation and had approximately $385,000 in outstanding fines.
"The Hillsborough County Sheriff's Office will continue to identify and dismantle these criminal enterprises that target the people we serve and their property," said Sheriff Chad Chronister. "We ask everyone to remember that the best way to avoid becoming the victim of an auto theft is to keep your vehicle locked at all times and never leave your key or key fob in your vehicle."
Those operating illegal chop shops make their money off of stolen vehicles. So, don't make it any easier for them. HCSO analyzed stats from the last year and found that 83% of auto thefts involved vehicles left unlocked. Of those burglarized, 71% were unlocked.
Detectives are working to locate the possible owners of the vehicles found at the property. Anyone with information related to this case is asked to contact the Hillsborough Country Sheriff's Office at 813-247-8200.