UN expert: Attacks may be crime against humanity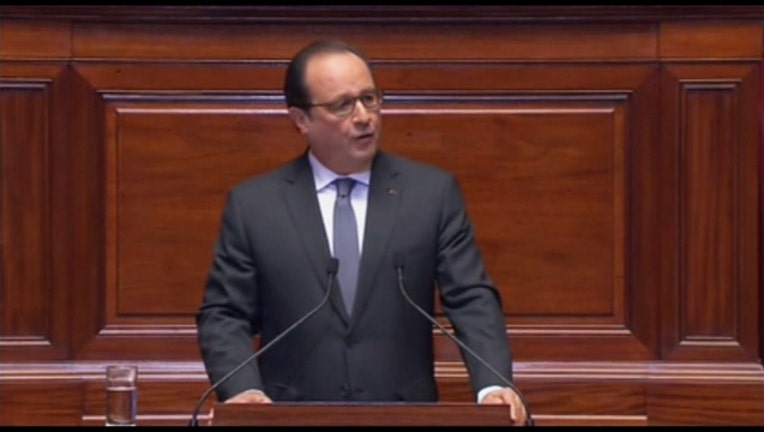 PARIS (AP) — The latest on the deadly attacks in Paris. (All times local):
11:30 a.m.
A United Nations human rights expert says the attacks in Paris "may constitute a crime against humanity."
Karima Bennoune, a professor at the University of California-Davis School of Law appointed by the U.N. as an expert on cultural rights issues, said in a statement Tuesday that the claims of responsibility from the Islamic State demonstrate a "hateful worldview motivating this violence."
She says the attacks "viciously and deliberately targeted sites of arts and leisure where people come together to enjoy their cultural rights."
Bennoune says an attacker's cry of "Allahu Akbar," or "God is great," ''grossly misuses a religious pronouncement sacred to hundreds of millions of Muslim believers around the world."
___
11:05 a.m.
French Defense Minister Jean-Yves Le Drian said EU partners could help "either by taking part in France's operations in Syria or Iraq, or by easing the load or providing support for France in other operations."
In the wake of the attacks in Paris, France has become the first nation to invoke an EU treaty provision to require all states to offer aid and assistance "as they are able."
___
11:00 a.m.
France is demanding security aid and assistance from the European Union in the wake of the Paris attacks and has triggered a never-before-used article in the EU's treaties to secure it.
EU foreign policy chief Federica Mogherini said Tuesday that member states had indicated their "full support and readiness to provide all the aid and assistance needed."
Article 42.7 of the EU's Lisbon Treaty states that if a member country "is the victim of armed aggression on its territory," other member states have an obligation of aid and assistance.
Arriving for talks in Brussels, Greek Defense Minister Panagiotis Kammenos told reporters that "we're in a new situation in Europe. This is Sept. 11 for Europe.
___
10:30 a.m.
Britain's Treasury chief is set to double the amount of funds devoted to fighting cyber-crime as the U.K. raises security spending after the Paris terror attacks.
Osborne will be meeting with the experts from the GCHQ intelligence service Tuesday as they plot a strategy to counter the ability of the Islamic State group to exploit social media to spread propaganda.
Osborne says IS does not yet have the capability to exploit the Internet to attack infrastructure such as air traffic control systems or those governing electricity. But he says "we know they want it, and are doing their best to build it."
He says that if such attacks occurred, "the impact could be measured not just in terms of economic damage but of lives lost."
___
10:10 a.m.
A Pakistani foreign ministry spokesman says Prime Minister Nawaz Sharif has visited the French embassy in Islamabad to convey his condolences over last Friday's coordinated attacks in Paris in which at least 129 people were killed.
Spokesman Qazi Khalilullah says Sharif met Tuesday with the French ambassador Martine Dorance and other diplomats.
State run Pakistan Television says Sharif condemned the attacks and promised to cooperate with France in the fight against terrorism.
Pakistan has suffered numerous attacks in recent years, including a Taliban attack on a school in the northwestern city of Peshawar last December, which killed 150 people, mostly children.
___
10:00 a.m.
French Prime Minister Manuel Valls says some of the victims from last Friday's attacks in Paris, which killed 129 people, have still to be identified.
Valls, who was speaking Tuesday on France Inter radio, did not say how many of the victims have yet to be identified and acknowledged that authorities still did not know enough about the attacks that took place outside the Stade de France stadium.
He said that perhaps two or three "teams" of bombers carried out the attacks outside the stadium during a soccer match between France and Germany.
___
9:30 a.m.
France's Interior Minister has said that authorities carried out "128 police raids last night."
Bernard Cazeneuve spoke on French radio France Info Tuesday and did not give specific details about the Monday night raids that have followed Friday's deadly Paris attacks that killed 129 people and injured many more.
He said that "the majority of those who were involved in this attack were unknown to our services."
Cazeneuve also said that 115,000 police, gendarmes and soldiers have been mobilized to protect French citizens. He pledged to boost funding for police equipment — which he said that dropped by 17 percent from 2007 to 2012.
___
9:30 a.m.
An Israeli Cabinet minister is linking a decision to ban an Islamist party to last week's attacks in Paris.
Israel on Tuesday announced that it outlawed the Northern Branch of the Islamic Movement, blaming the group for inciting Arab Israelis to violence amid a two-month outburst of Israeli-Palestinian violence.
Israel Public Security Minister Gilad Erdan says in a statement Tuesday that "Israel must act as an example and spearhead the struggle against radical Islam whose emissaries we saw massacring innocent people in Paris," among other places. He says the group shares an ideology with the Islamic State and the Islamic militant Hamas.
The party provides religious and educational services for Israeli Arabs. It accuses Israel of trying to take over a sensitive Jerusalem holy site, a charge Israel denies.
___
9 a.m.
Activists say a new wave of airstrikes have struck the northern Syrian city of Raqqa the de facto capital of the Islamic State group.
The Britain-based Syrian Observatory for Human Rights and the Raqqa-based collective called Raqqa is Being Slaughtered Silently reported seven airstrikes on the city.
Both activist groups said the airstrikes hit targets on the southern edge of Raqqa but had no immediate word on casualties.
In France, military spokesman Col. Gilles Jaron said the strikes early Tuesday destroyed a command post and training camp.
They were the second wave of airstrikes by France against IS after attacks killed at least 129 people around Paris on Friday.