'Undercover angel' brightens the lives of patients and staff at TGH
TAMPA, Fla. - A Bay Area woman has been spreading kindness and compassion for 20 years at Tampa General Hospital. 
Look up the word 'caring' in a dictionary and you just might find Bettie Alexander's name.
"If I had two hearts, if a patient needed a heart and I had two, they could have one of mine," Alexander said. 
Patients and staff simply call her Ms. Bettie.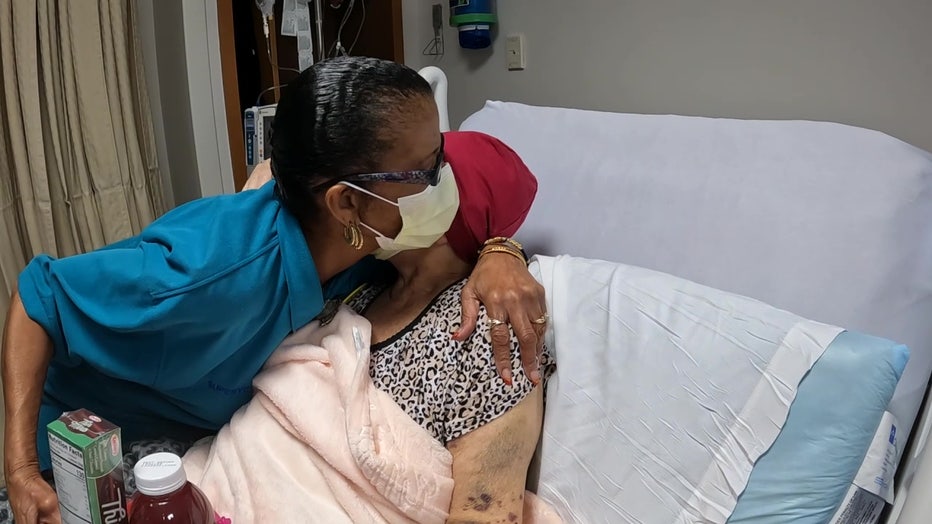 Miss Bettie hugs a patient at TGH. 
"Never met anybody like Miss Bettie. Never," shared Kia Raymond, environmental services supervisor at TGH. "She is one of a kind, for sure."
She is an environmental services supervisor and a patient ambassador for Tampa General Hospital. 
READ: Tampa man experiencing 'uncontrollable tremors' treated through focused ultrasound at TGH
"I maintain the cleanness of the rooms, and make sure my employees are doing the right thing at all times. Make sure they greet the patients as they come in to let them know that we are here to take very good care of them," she explained.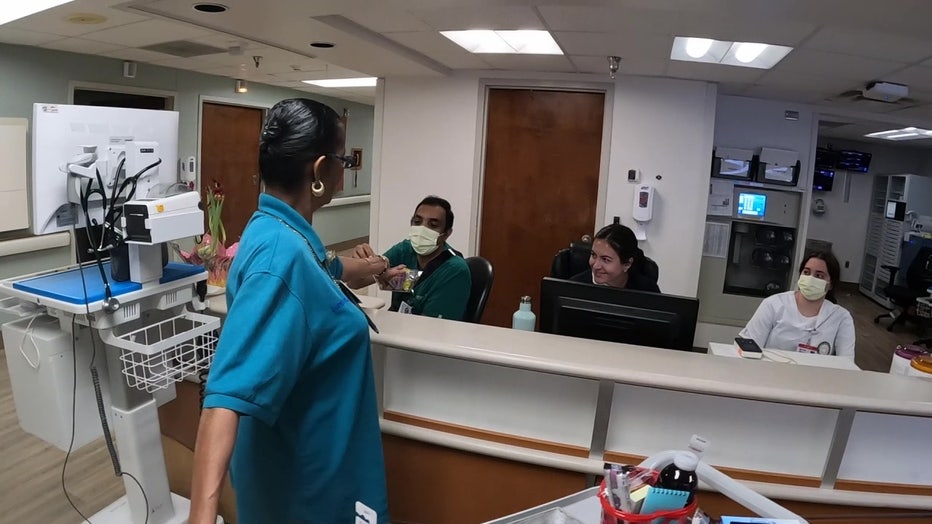 Miss Bettie brightens the days of her co-workers. 
At 74, Miss Bettie has walked the halls of Tampa General Hospital for 20 years with her cart full of goodies to bring cheer and smiles to the faces of the patients.  
READ: New mammogram guidelines impact half of American women with dense breast tissue
"She just came into my room and lifted up my day," said Kip Malone, a TGH patient.  "I was like, okay." 
She also lifts up her co-workers. 
Miss Bettie checks in on a patient at TGH. 
"When God wakes me up every morning, I know that he looked down on me and he gave me a plus to come to Tampa General to make someone happy in their life," Miss Bettie added. 
It's a job that Miss Bettie doesn't take lightly. 
READ: Tampa General Hospital's 'Reindeer Reunion' returns to celebrate pediatric patients
"Some days I need to get one day off to rest, but I'm so upset because I should've just come here because Tampa General just enlightened my life every day," Miss Bettie explained. "There's nothing that we can't get her to help us with," said Raymond. "There's nothing that she won't do for anyone. So, she's the light. I call her the light of the hospital."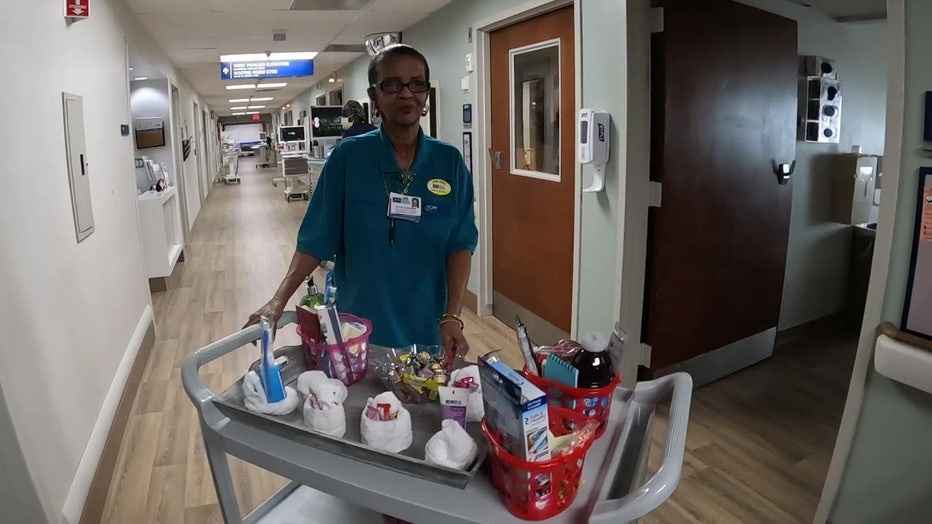 Miss Bettie wheels a cart full of goodies through the halls of TGH.
A light that shines bright. 
"All you got to do is do the right thing. Follow your protocol. Love everybody and Tampa General will love you back," Miss Bettie shared. 
Miss Bettie turns 75 in April but shows no signs of slowing down. She says retirement is not in her near future.