USF career fair prepares students for working life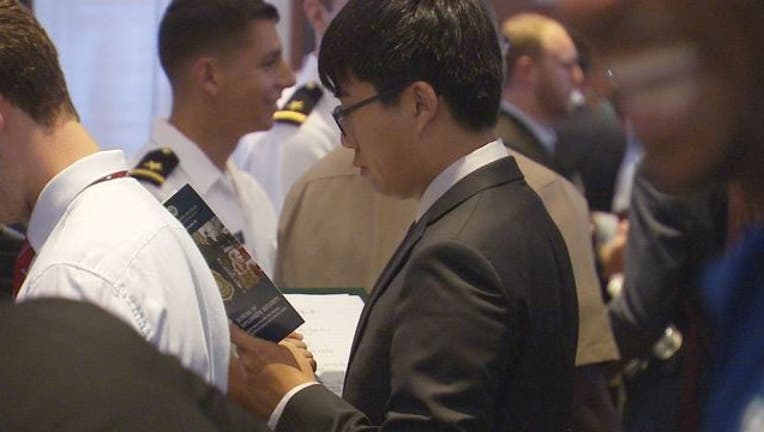 article
TAMPA (FOX 13) - Students at the University of South Florida are trading jeans and shorts for suits and ties. A job fair on campus is the real world test they've been preparing for since the beginning and a chance to get started on their career.
"What they're doing is going over opportunities to go to work for some of the companies either from a full-time or from an internship perspective," said Russ Coughenour, the assistant vice-president of USF Career Services.
Anthony Detorres says he isn't quite ready for the full-time job market. He still has a few years left at USF but he wants to be ready once he graduates.
"My goal today is either an internship or a co-op. Somehow I want to get some professional experience on my resume," said Detorres.
Senior Jake Wood, meanwhile, is aiming for a career in computer security.
"Tech Data and Reliaquest, those are the two companies that I'm sort of targeting today," said Wood.
A representative from Tech Data attended the fair. He was in Jake's shoes not that long ago.
"Two years back, I was on the other side of the table and this year I'm on the other side of the table hiring people, actually looking at the classmates handing their resumes to me and it's fun," said Pritik Adhav.
"Pritik moved into a full-time role with us very recently so we're excited to have him back here trying to get other students to join," said Ryan McNulty of Tech Data.
It's a good time in the job market for college graduates. According to a study from the Board of Governors, 92 percent of Florida graduates land a job within a year of completing their bachelor's degree.
It's a welcome bounce back from the recession just a few years ago.
"I think the companies woke up one day and saw they were very low on talent. I think entry-level college graduates, especially from a place like USF, helps them fill that pipeline of talent for the future," said Coughenour.
And there are other tools students will need besides talent and experience to land the job.
"We call it hungry, humble and smart. We want students who come in who are hungry, who are willing to learn, and be a sponge and soak up everything they can. Humble students who are able to take direction don't come in [thinking] they know everything, are able to learn in that regard, and smart students who are inquisitive, they ask questions," said McNulty.
Wood, who has worked as a student career advisor at USF, hopes his own advice works for him.
"Be yourself and find something you're interested in and target that," advised Wood.