USF robot provides valuable insight on red tide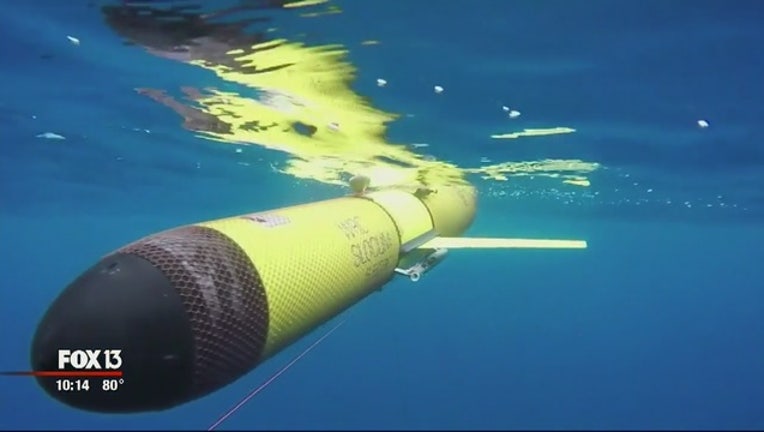 TAMPA (FOX 13) - Red tide is still lingering near both coasts of Florida, devastating sea life and hurting beach businesses. Now, local researchers say they may have the data to pinpoint why this algae bloom is so severe.
For about three and a half weeks, a yellow, torpedo-shaped, autonomous robotic glider was on a journey to learn more about red tide. Marine scientists from USF and the FWC launched the vessel near Clearwater Beach at the end of August. The underwater vessel followed a route to map out an area thought to spawn red tide blooms.
"It will just go up and down by itself in a pre-programed fashion, sampling the water from the surface to the bottom along its route," explained Dr. Robert Weisberg, USF professor of physical oceanography.
The glider's sensors detected increased salt content, cooler waters, high levels of chlorophyll and very little oxygen. The data, Weisberg says, points to red tide blooms developing along the sea floor, not along the shoreline.
"The water could look perfectly clear on the surface, but right along the bottom there might actually be substantial concentrations of red tide," Weisberg said.
In fact, not long after the robot was deployed, red tide was found in high concentrations at Pinellas County beaches.
Scientists say this red tide is the worst the Sunshine State has seen in more than a decade. The algae bloom, a natural phenomenon, is deadly to marine life and can irritate people's skin and lungs.
"Most of what really controls the ocean is not occurring at the top, it's actually occurring at the bottom," said Weisberg.
He tells us it's critical for testing like this to happen regularly so scientists learn more about the coastal ocean and how red tide really works.
"Knowing how the red tide actually originates, how to make it's living, at least gives us some understanding of what we could or may not be able to do," Weisberg added.