Violent protests erupt in Milwaukee after officer-involved shooting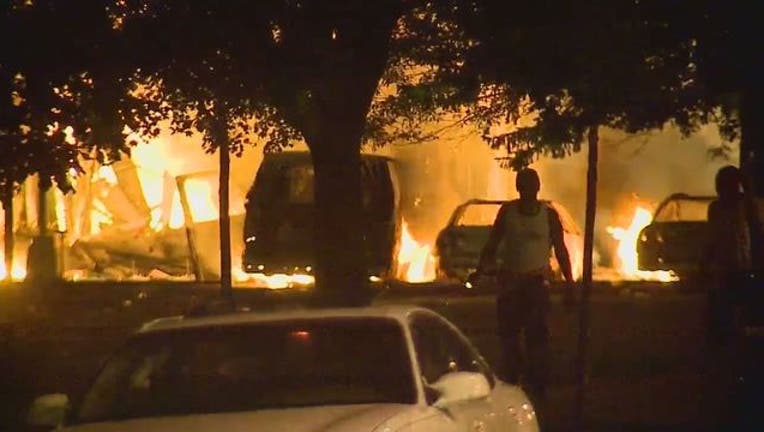 MILWAUKEE (AP) - A crowd of protesters skirmished with police Saturday night in a Milwaukee neighborhood where an officer shot and killed a man after a traffic stop and foot chase earlier in the day, setting fire to a police car and torching a gas station. One officer was hurt by a thrown brick.
Police said the 23-year-old man was armed with a handgun, but Assistant Chief Bill Jessup told the Milwaukee Journal Sentinel that it wasn't immediately clear whether the man had pointed a gun or fired at the officer. They described the man as a suspect, but didn't say what led to the traffic stop.
The races of the man and the officer weren't immediately released.
The Journal Sentinel reported that a crowd of more than 100 people gathered in a standoff with 20 to 30 officers, some of whom wore riot gear, several hours after the shooting. Officers got in their cars to leave at one point and some in the crowd started smashing a squad car's windows. Another police car was set on fire. The newspaper also reported that one of its reporters was shoved to the ground and punched.
WATCH: Video streamed live as protesters and officers took over streets in Wisconsin. (Warning: Video was live and is unedited. Viewer discretion is advised.)
The Police Department tweeted that one officer was taken to a hospital after he was struck by a brick thrown through his squad car window. Police also tweeted that a gas station had been set on fire. They said firefighters couldn't extinguish the blaze because gunshots were being fired.
A Milwaukee police spokesman didn't immediately respond to messages from The Associated Press seeking comment.
The shooting that sparked the tensions occurred about 3:30 p.m. after officers stopped a car with two people inside.
Police Capt. Mark Stanmeyer said in a news release that the two people in the car got out and ran and that the officers chased them. He said a man who was one of the people fleeing was armed with a handgun and was shot by an officer during the pursuit. He said the man died at the scene.
The man's name wasn't immediately released. Stanmeyer said he had an arrest record, and that the handgun he carried had been stolen in a March burglary in suburban Waukesha.
The 24-year-old officer who shot the man has been placed on administrative duty. The officer's name wasn't immediately released. He has been with the Milwaukee department six years, three as an officer.