VOTE: Florida State Fair's People's Choice Burger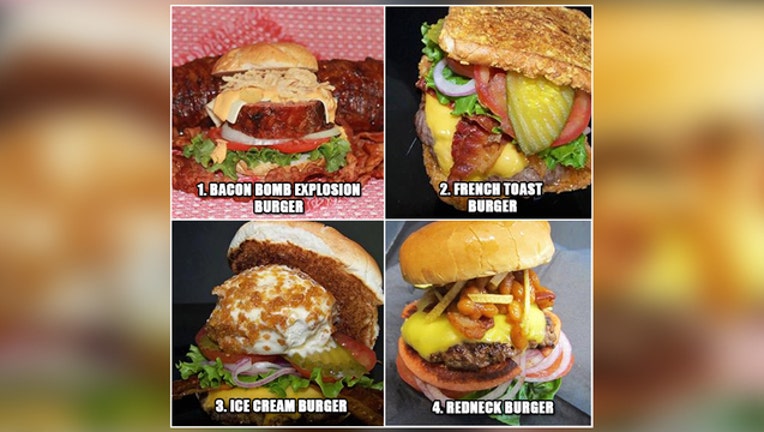 article
TAMPA (FOX 13) - The smell of deep fried fun will soon fill the air again as the Florida State Fair, and it's oh so popular unhealthy foods, are right around the corner.

But before the fun officially begins, fair organizers are asking locals to help pick one of their star snacks with a public vote for their "People's Choice Burger."
The vote begins Wednesday on the Florida State Fair website, and features four finalists:
The Bacon Bomb Explosion Burger: "A bacon lover's delight! Fresh ground chuck is seasoned with ranch, BBQ sauce and a special seasoning. After the addition of some bacon crumbles, the meat is wrapped in a lattice of fresh bacon and slow roasted with hickory smoke until golden brown, then sliced into patties. This mouthful of a burger is served on a Kaiser roll with a slice of cheese and a few more strips of bacon – if you can handle it. Add lettuce tomato, onion and pickles. Regardless of the voting, this bacon bomb will be among the fare offered this year."
The French Toast Burger: "A fresh burger topped with cheese & bacon, lettuce, tomato, onion, and pickle all placed on homemade French Toast and drizzled with our special sauce."
The Ice Cream Burger: "A meal and dessert all in one tasty concoction. Take a cheeseburger, top it with bacon, tomato, onion and pickle, and then add the pièce de résistance – a coated scoop of Mexican-style fried ice cream."
The Redneck Burger: "A fresh burger topped with bacon & cheese on a piece of fried bologna add some baked beans and potato sticks along with lettuce, tomato, onion, and pickle on a toasted bun."
Everyone who takes part in the vote will automatically be entered in a random drawing to win free fair tickets to Opening Day on February 4th.
Voting for the burger ends on Wednesday, January 27.
Click here to vote on the Florida State Fair Website.