Walk through Easter in Wauchula offers immersive ancient Jerusalem experience
WAUCHULA, Fla. - This is more than a traditional Passion Play. Power and Light Productions is putting on a full Walk Through Easter event inside the Cattleman's Arena in Wauchula.
Mike Graham, the Producer, and Director for Power Light Productions described it this way.  
"It's a walk-through show. You do not sit in the bleachers and watch," he explains. "It is a town as Bethlehem was. We've got a lot of the same elements in it."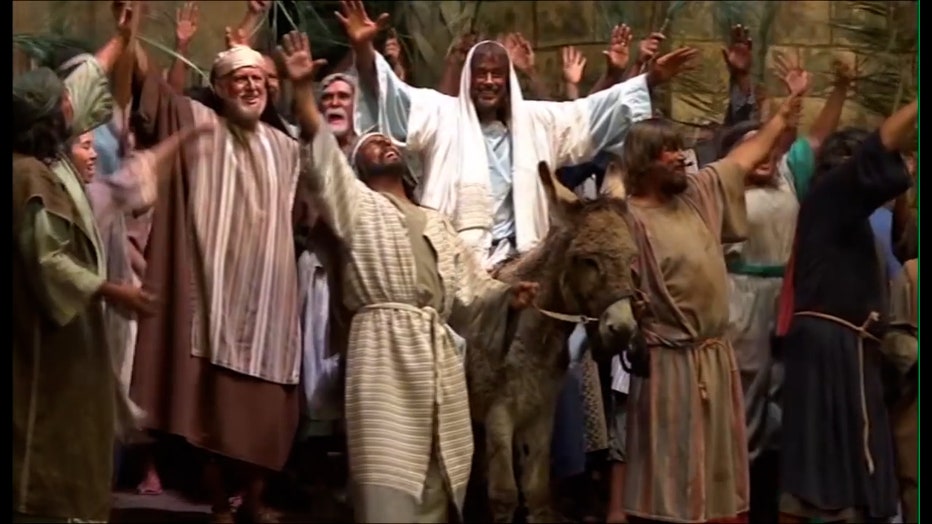 The experience immerses the visitor in ancient Jerusalem more than 2000 years ago. There are Roman soldiers on the streets, animals in the marketplace, shop vendors selling tapestries, and the necessities of ancient Jewish culture.
"Once the people get on the fairgrounds, here in Hardee County, they are there on the fairgrounds to stay. They can spend the entire evening if they would like. They can walk through it two times if they've got the energy or the interest to do that and see things that they might have missed the first time through," Graham added.
READ: Mote Marine exhibit allows guests to transform into an undersea explorer
Visitors may find themselves next to the action as it takes place all around the walkable cityscape created inside the arena.  Parents are encouraged to bring their kids to see the animals up close, and, yes, they can pet them.
Graham says you can expect to see life as it was during the "days of the Bible."
"Just regular life," he describes. "From sheep to camels, ducks and chickens to goats and everything in between. So, it's very authentic in that sense."
Throughout the arena, you are surrounded by actors who play different craftsmen, merchants, and civilians in what they call "Jerusalem times."
And then there is the central figure Easter is based on in Bible stories. Jesus can be seen walking the streets.
Over the course of 50 minutes, visitors will see him enter Jerusalem, teach in the temple, and even perform miracles; but then the visitors are also exposed to his arrest in the Garden of Gethsemane, his trial before the high priests, and the spectacle of Christ being paraded through the city carrying his cross to Mount Calvary.
"We depict the Palm Sunday scene from that story, obviously, which would have been the week before crucifixion. Jesus will actually ride through the audience on the donkey, with people following him with palm branches," Graham said.
The activity takes place daily on March 30, 31, and April 1. The hours of operation begin at 6 p.m. each evening and end at 9:30 p.m.
The full 50-minute portrayal takes place four times each evening. Visitors can stay as long as they wish, but there is no seating.
Find out more information about the show and the location by clicking here.
Hardee County Cattleman's Arena is located at 707 Recreation Complex in Wauchula.