War medal reunion helps restore Bay Area veteran's patriotic faith
ST. PETERSBURG, Fla. - Bob Hagarty has dedicated his life to collecting and preserving military memorabilia, especially war medals. 
The Vietnam veteran from Pinellas County has one of the largest private collections of war memorabilia in the world. But, some of those medals began to weigh heavily on his heart once he learned not everyone values them like he does. All it took was one special connection to restore his patriotic faith.
"This changes things for me," said Hagarty with a smile and a sigh of relief.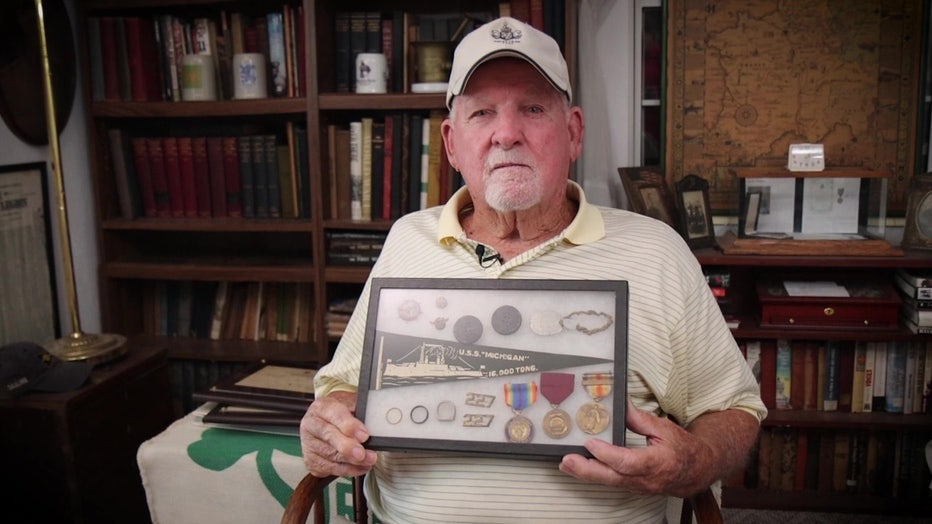 Bob Hagarty has dedicated his life to collecting war medals.
A step into his home is a step back in time because every corner of every room is filled with memories of a war often ignored. 
"When I was young, I met a lot of World War I veterans, and they had to be the most patriotic people I've ever come across," Hagarty shared. 
READ: WWII veterans help Dunedin teen record living history
The difficult conditions they endured, the gassing, the filthy trench life is something he'll never forget. But, he said others quickly did.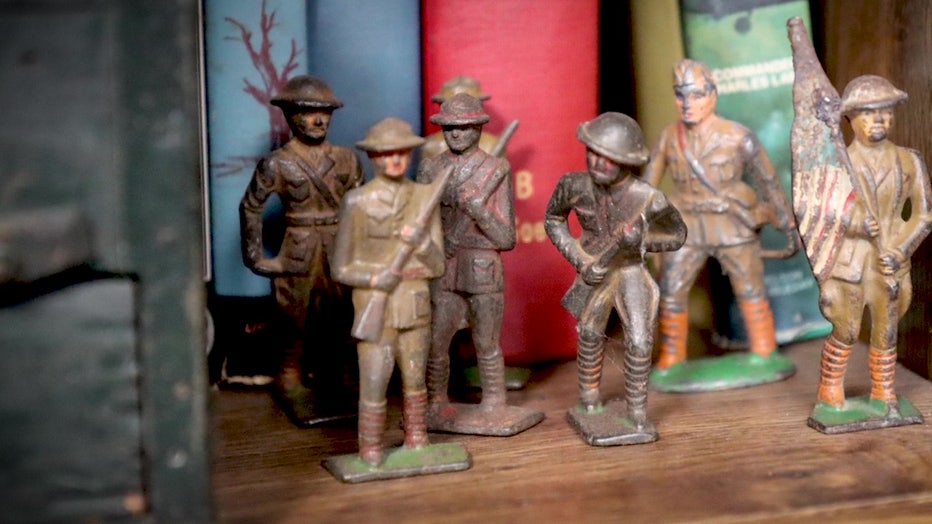 Every corner of Hagarty's house is filled with memories from war. 
"Most teachers, and I was a teacher, they skip over WWI very quickly, and I just felt in my lifetime I'm never going to skip over it," explained Hagarty.
As a child of a WWI veteran, Hagarty said that he practically grew up in VFW's and on weekly trips with his father to the cemeteries to honor the fallen.
"I remember putting the flag and watching these veterans stand back and salute. In fact today it affects me," Hagarty shared while holding back tears. 
RELATED: Army family gives back to their community with The Bautista Project
His patriotic fire was easy to light. It happened when he was 10. His dad gave him two decorative buttons off his uniform. 
"Those were like gold, to me, since they were from the war," Hagarty said. "Instantly, I wanted more."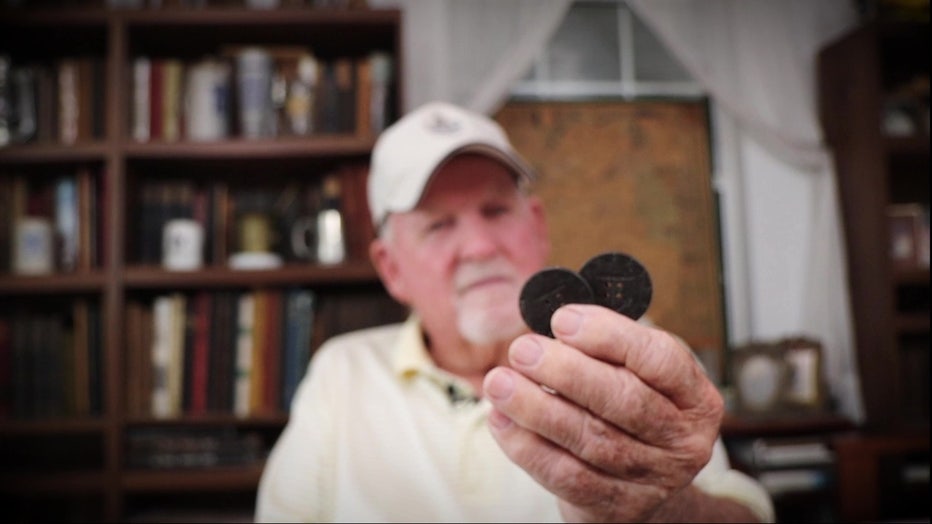 Hagarty's father gave him two decorative buttons off his uniform.
At 87, Bob now has an entire room in his house dedicated to war medals, all of them from World War I. His collection now nears ten thousand. Those medals are like his children, so he was especially offended when he tried returning a set to a soldier's family he'd tracked down a few years ago, only to have the door slammed in his face. 
He located the granddaughter of a war hero and wanted to return his medals to the family. But she didn't want any part of it.
READ: Veterans, first responders bond over bowling while scoring big for Bay Area charities
"She told me, 'I remember them as a little girl, but I have no interest in them whatsoever.' Her actual words were, 'I don't give a damn'," Hagarty said.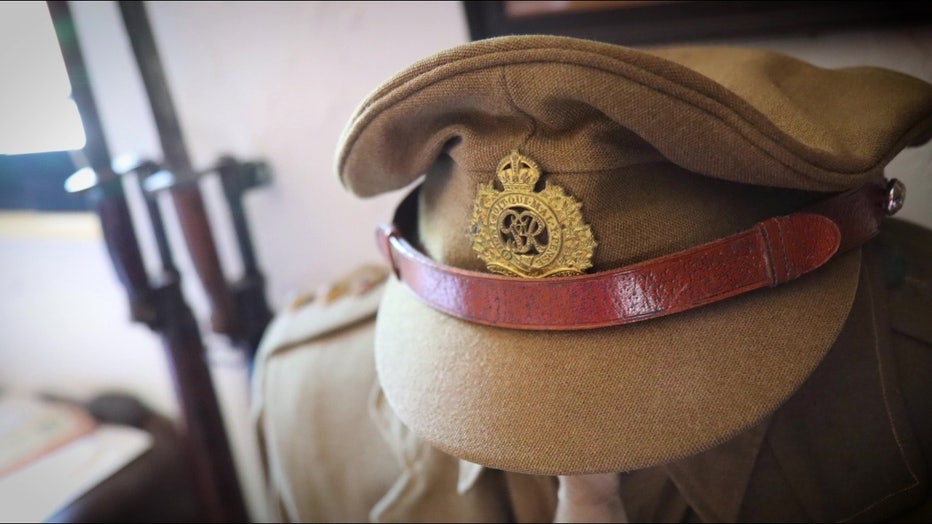 Hagarty's collection includes uniforms, munitions, helmets and medals. 
Broken-hearted, he said that's the last medal he tried returning. However, FOX 13 was determined to show him that there are others out there who still cared. 
READ: Vila Brothers Park named after seven Tampa brothers who served in World War II after Pearl Harbor attack
Hagarty randomly pulled out five sets of medals and with only the soldier's names and companies, we went to work searching for relatives.
With a number of search engines including Ancestry.com, FOX 13 found several relatives of at least three of the medals Hagarty pulled. One of them was Jim Hamstra, who lives in Indianapolis, and is the grandson of Dick Hamstra, the recipient of three medals during WWI, all of whom are in Hagarty's collection.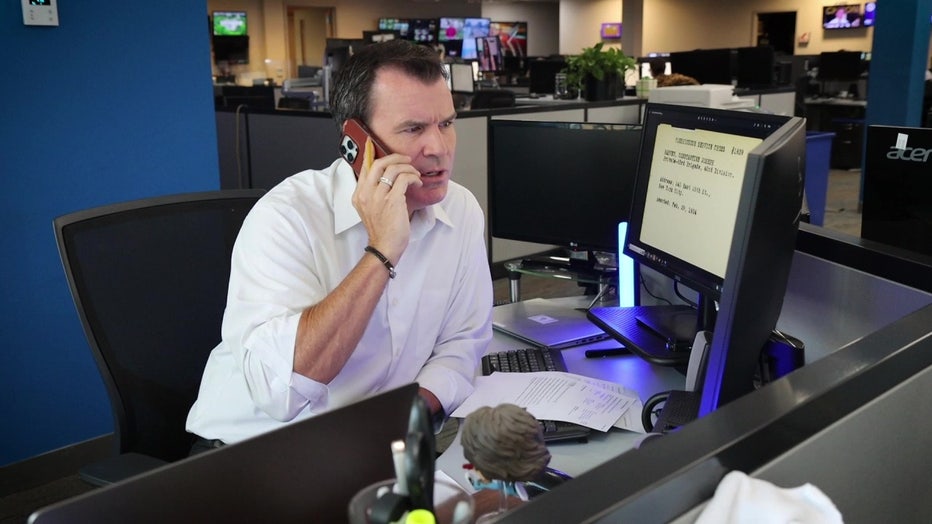 Mark Wilson aided in Hagarty's search for families.
One of those medals is a rare Croix de Guerre medal that was awarded for acts of heroism to soldiers who served in France during the war. This one has a star on it, which, according to Hagarty, means they won it twice. 
"So it would be especially valuable to a family member," Hagarty explained. 
READ: Hillsborough High alumni hope to restore old clock tower dedicated to students who died in World War II
Jim Hamstra not only confirmed for us that his grandfather was in the 128th Ambulance Company of the 32nd Division as the medal papers indicate, but he sent us a photo of him wearing that very medal.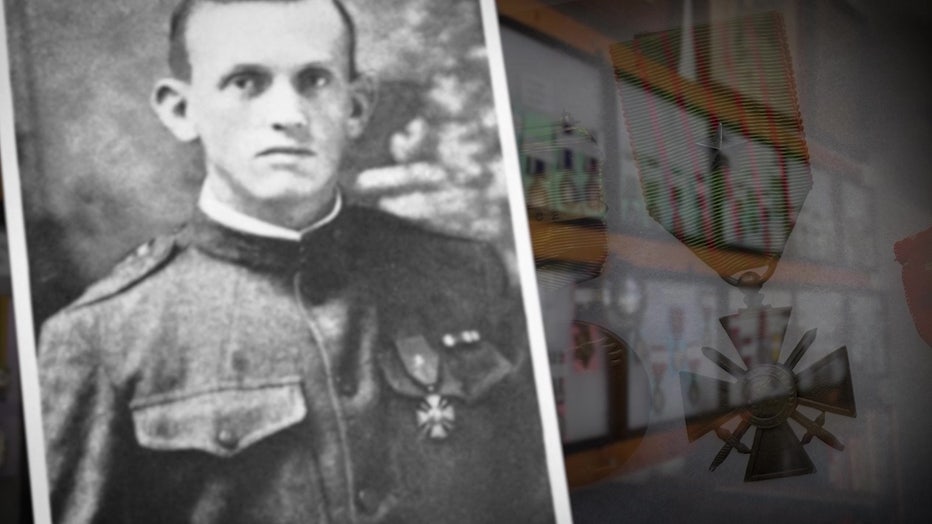 Jim Hamstra's grandfather was photographed wearing the same medal Hagarty had.
So we introduced Hagarty and Hamstra to each other via FaceTime and the first thing Hamstra mentioned was that Croix de Guerre medal. 
"I have been looking for that medal for 40, almost 50 years," shared Hamstra. "It went missing after my grandmother died in 1966 so how it went from there to you [Hagarty] we'll never know," Hamstra stated. 
When we explained to Hamstra how Hagarty has spent much of his life collecting and preserving all of these war medals from all over the world for himself and also for family members like him, he beamed.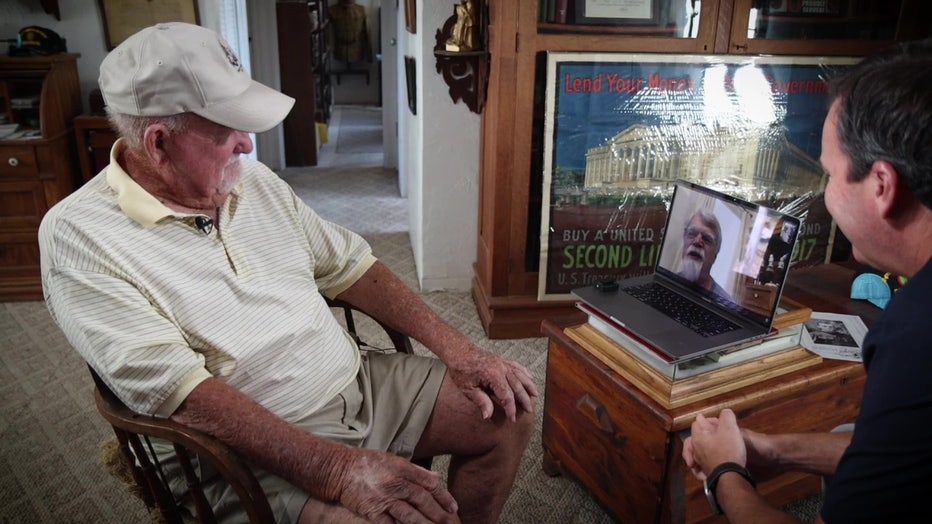 Hagarty and Hamstra were excited to speak to each other about the medal.
"I'm glad you did it!," Hamstra told him.
Hamstra also told Hagarty he'd love to come pay him a visit soon and work out a deal to bring the medals back home.
"Come on down," Hagarty said to him. "I have cold beer," he said with a hearty laugh.
READ: Lithia veteran, owner of Stalk and Vine on 39, finds community in farming
Two cold ones await the new partners in patriotism for a reunion nearly 60 years in the making that all started with a boy and his buttons.
*NOTE: FOX 13 also located relatives of two other sets of medals and both of whom are interested in connecting with Hagarty as well. One of them made Tampa home for more than 50 years until moving away recently to Colorado. We'll keep you posted on their reunions.