Watch: Manatee rescued after getting stranded Florida river's mud banks at low tide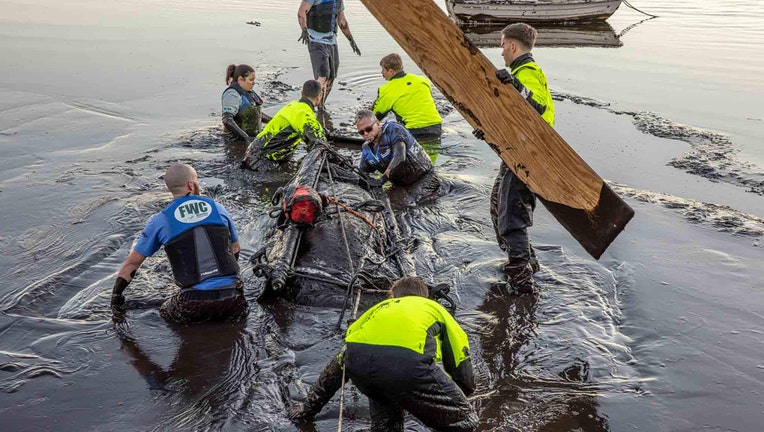 article
JACKSONVILLE, Fla. - Rescuers helped free a manatee that got caught in a river's mud banks at low tide in north Florida.
The Jacksonville Fire Rescue Department said the manatee became stuck in the mud banks along the St. Johns River.
"There was a long trail where the manatee attempted to get into deep water, but it just wasn't agile enough to save itself," firefighters said.
WATCH: Baby dolphin injured after getting caught in crab trap on Clearwater Beach now thriving at SeaWorld Orlando
The rescue, which happened on the evening of Jan. 6, took several hours as firefighters assisted Florida Fish and Wildlife Conservation Commission crews with freeing the stranded sea cow.
On Tuesday, the agency released raw footage of the rescue on its YouTube page.
Rescuers had to lay out board walkways in order to access the manatee in the mud. They then cradled it and used a winch to bring the large mammal back across to the land, where they then lifted it into a truck.
Rescuers with Florida Fish and Wildlife Conservation Commission and Jacksonville Fire Rescue work to free a manatee trapped in the mud banks of the St. Johns River at low tide. (Photo courtesy: Jacksonville Fire Rescue Department)
RELATED: Rare manatee twins found at Blue Spring State Park in Florida
The manatee was then transported to the Jacksonville Zoo to be checked out by veterinarians, treated and prepared for release back to the river.
"Not your everyday rescue, but happy to be able [to] assist," fire rescue officials wrote on their Facebook page.