YouTube puts brakes on dangerous 'challenges'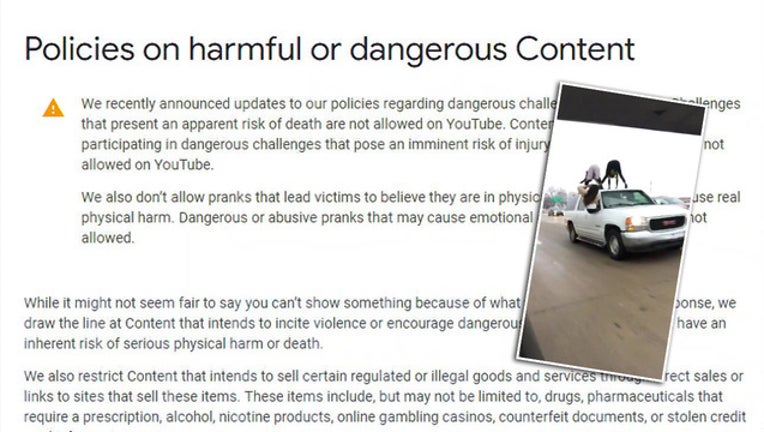 TAMPA, Fla. (FOX 13) - Viral internet challenges that encourage participants to record themselves doing crazy and outrageous actions are becoming more and more common across social media platforms. However, YouTube has now adjusted their policy in order to ban those videos from their site. 
Videos that feature people doing things like the cinnamon challenge, the hot water challenge or, most recently, the Bird Box challenge, will no longer have a place on YouTube's platform. 
Viral challenges like the Bird Box challenge, which encourages individuals to record themselves doing everyday tasks while blindfolded, have gained notoriety for causing participants severe harm while encouraging others to follow along.  
Recently, a teen partaking in the challenge caused an accident on a Utah roadway after attempting to drive while covering their eyes. 
Due to this, YouTube has now said 'enough is enough' by tightening up their guidelines for what will be allowed on their site. 
"Nothing that's going to put someone in direct bodily harm, nothing that's going to endanger children, nothing that's going to make you feel you're under immediate danger. So, I see here a social media kind of giant reaching out and saying we just want our community members to be safe." said Stephanie Vie, a professor at the University of Central Florida.
If a video is flagged for violating YouTube's new policy or any other police already in place, the user will have two months to review, correct or completely remove the video from the platform.
YouTube states that if anyone continues to violate their guidelines or fails to make changes to their content, they will be banned from the site.