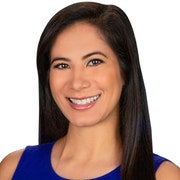 Ariel Plasencia joined FOX 13 in April 2023 and is excited to be reporting in the Sunshine State.
Ariel spent the last four years in Dallas, TX covering news, sports (yes, including the Cowboys), and traffic. From stories on TCU's run in the College Football Playoff National Championship to issues with the power grid to all things barbecue, Ariel wore many (cowboy) hats during her time in the Lone Star State.  
Before Texas, she worked as a reporter and anchor in North Carolina.
A Chicago native, Ariel grew up in cold, windy weather and studied math at Northwestern University in Evanston, IL. She received her master's degree in journalism at Georgetown University in Washington, D.C. 
When she's not working, Ariel enjoys watching her Chicago sports teams (go Cubs, Bears, Bulls & Blackhawks!) with her husband and dog.
The latest from Ariel Plasencia